Indy's 2013 Winter Devour Downtown – January 21-February 3
Posted by Kristie Smith on Monday, January 21, 2013 at 1:21 PM
By Kristie Smith / January 21, 2013
Comment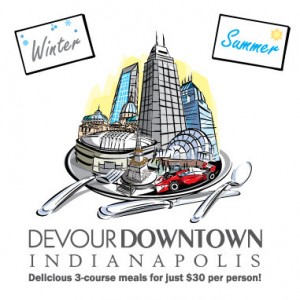 Do you love to eat out, try new restaurants, and not break your pocketbook? Mark your calendars! Jan. 21-Feb. 3, 2013, it's Devour Downtown Indianapolis Winterfest event. This is a bi-yearly, two-week-long event in which over 45 participating downtown Indianapolis restaurants offer special three-course, $30 dinner menus!
Forget cooking for two weeks. Instead, belly up to a delectable nightly meal in one of downtown's hottest restaurants. Hightail it over to Indianapolis' biggest showcase of food and drink with Devour Downtown Winter Jan. 21 – Feb 3.
Be sure to let me know when you will be heading out. Dining is always fun with friends, and we would love to gather and meet you out one night! See you then.
---

About the Author
Kristie Smith
Kristie Smith is the founder and CEO of the Indy Homes Real Estate Team. She is a REALTOR, and is one of the most recognized and accomplished Indiana real estate agents. Ranked among Central Indiana's top 10 real estate teams, the Indy Homes Team specializes in relocating families moving to the Indy area, as well as Helping People on the Move locally in Indy.
---