Mark your calendar: 2018 Carmel arts, events, festivities and fun
Posted by Kristie Smith on Thursday, March 22, 2018 at 11:02 AM
By Kristie Smith / March 22, 2018
Comment

The city of Carmel has been voted the best place to live in the U.S. many times, and looking at its roster of upcoming events, it's easy to see why Carmel's citizens love living here. There is so much to do—from holiday celebrations to cultural events in Carmel's Arts & Design District to attractions that make Carmel unique and appealing (how many cities this size offer a European-style Christkindlmarkt complete with ice skating?). We've curated a selection of events here, but there is always something going on in Carmel! Check VisitHamiltonCounty.com for a complete list.
Year-round
IU Health North Hospital Gallery Walk
Second Saturday of each month, 5-9 p.m., Main St. and Range Line Rd.
Enjoy the fine art, merchant activities, entertainment, culture and shopping of the Carmel Arts and Design District every Second Saturday in 2018! Details >>
March
The Design Genius of Frank Lloyd Wright
Daily, now through May 27, 2018, Museum of Miniature Houses, 111 E. Main St.
Explore 2-D items such as framed examples of stained glass and other Frank Lloyd Wright designs, puzzles and cross-stitches, and 3-D Items such as paper and Lego models of Falling Waters, the Imperial Hotel and other buildings designed by Wright. Details >>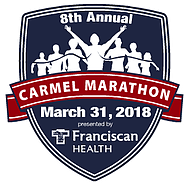 8th Annual Carmel Marathon
Saturday, March 31, 8 a.m. at the Palladium, 355 City Center Dr.
All events begin at 8 a.m. and include a 5K, 8K, half marathon and full marathon. Start/finish lines are located in front of the Palladium. Details >>
Easter Egg Hunt
Saturday, March 31, 9:30-11:30 a.m., Lawn at Clay Terrace, 14390 Clay Terrace Blvd.
Children ages 0-10 gather the morning before the Easter Holiday to collect the bounty of the season, eggs filled with candy and toys spread across the stretch of the Clay Terrace Lawn. Surprises are in store for a few lucky kids who pick up eggs stuffed with prizes. Details >>
April
Hairspray
April 27-May 12, 2018, Booth Tarkington Civic Theatre, 3 Center Green Ste. 300
The 1950s are out, and change is in the air! Hairspray, winner of eight Tony Awards, including Best Musical, is a family-friendly musical, piled bouffant-high with laughter, romance and deliriously tuneful songs. Details >>
Itzhak Perlman
Saturday, April 28, 2018, 8 p.m. at The Palladium at the Center for the Performing Arts, 1 Center Green
The reigning virtuoso of the violin brings his remarkable artistry to the Palladium. Details >>
May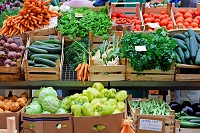 Carmel Farmers Market
Saturdays, May-September, 8 – 11 a.m., 5 Center Green (lawn of the Palladium)
Featuring 64 vendors, the Carmel Farmers Market is one of the largest farmers markets in Indiana. Shop for fresh produce, eggs and meats, as well as a variety of prepared foods, while enjoying live music. Details >>
Memorial Day Ceremony
Friday, May 25, 9 a.m. at the Veterans Memorial Plaza, 3rd Ave. SW
Carmel's American Legion and Veterans of Foreign Wars posts perform a flag-raising ceremony and join the mayor, other dignitaries and keynote speaker, Tom Gorup, Director of Security Operations for Rook Security and U.S. Army veteran. Details >>
June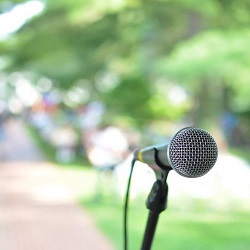 Summer Family Concert Series at the Gazebo
Wednesday evenings, June through September, 1 Civic Square
Enjoy an eclectic array of musical entertainers all summer long on Carmel Civic Square! Families are encouraged to bring picnic suppers and enjoy the outdoor music. Watch for details >>
James and the Giant Peach
June 15-May 20, 2018, Booth Tarkington Civic Theatre, 3 Center Green Ste. 300
When James is sent by his conniving aunts to chop down their old fruit tree, he discovers a magic potion that results in a tremendous peach… and launches a journey of enormous proportions. Based on the book by Roald Dahl. Details >>
July
CarmelFest
Tuesday and Wednesday, July 3 and 4, at Carmel Civic Square
Celebrate the 4th of July at CarmelFest, the highlight of the summer in Carmel. Come out for family fun—including a parade, live entertainment, food vendors and a spectacular fireworks display. Details >>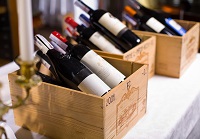 Art of Wine
Saturday, July 21, 2018, 5-10 p.m., at Main St. and Rangeline Rd.

For wine and art lovers! Enjoy a variety of wines while taking in the Art & Design District's galleries, shops and restaurants. Live entertainment rounds out the event. Admission is free; $20 for a wine tasting glass. Watch for details >>
Guys and Dolls
July 26-29, 2018, Booth Tarkington Civic Theatre, 3 Center Green Ste. 300
The classic musical romantic comedy involving the unlikeliest of Manhattan pairings: a high-rolling gambler and a puritanical missionary; a showgirl dreaming of the straight-and-narrow and a crap game manager who is anything but. Watch for details >>
August
Artomobilia
Saturday, August 25, 2018, at Main St. and Rangeline Rd.
Experience car design as art in the Carmel Arts & Design District. Automobiles from all eras line the streets while nearby galleries exhibit art with an auto theme. Watch for details >>
September
Carmel Porchfest
Sunday, September 16, 2018, 1-5:30 p.m., at Main St. and Rangeline Rd.
Porchfest features a variety of musical acts—ranging from acoustic to electric, solo to ensemble, from a wide variety of musical genres. True to its name, each act performs live from a neighborhood porch! Free admission. Watch for details >>
Oktoberfest
Date and times TBA, 10 Center Green
Enjoy food, entertainment and fall fun with the Palladium and the Center Green serving as a scenic background. Family-friendly and free admission. Watch for details >>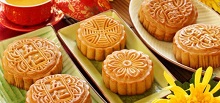 Mooncake Festival
Saturday, September 15, 2018, Time and location TBA
Presented by the Carmel-Xiangyang Sister City Committee, the Mooncake Festival celebrates Chinese culture and traditions and the special bond between Carmel and its sister city. Watch a dragon parade, learn about traditional Chinese dancing and music and enjoy a mooncake! Watch for details >>

Carmel International Arts Festival
Saturday and Sunday, September 22-23, 2018, at Main St. and Rangeline Rd.
The Carmel International Arts Festival features more than 130 juried artists from around the world. Dance performances and concerts (including ART ROCKS! on Saturday evening) are also part of the festivities, while kids will enjoy a variety of hands-on activities. Details >>
October
Carmel Farmers Winter Market
Every Saturday, October 20, 2018 – Saturday, February 23, 2019, 9 a.m. – 12 p.m. (with exceptions of the last two Saturdays in December), The Wire Factory, 510 3rd Avenue SW
Buy seasonal fresh fruits and vegetables, as well as meats, cheeses, eggs and prepared foods directly from the producers themselves! Details >>
November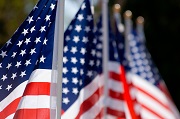 Veterans Day Ceremony
November 9, 2018, 12 p.m., Tarkington Theater at The Center for the Performing Arts, One Center Green
Carmel's annual Veterans Day Ceremony pays tribute to and thanks those who have served our country so that we can enjoy the freedoms that we have today. Free and open to the public. Watch for details >>
Holiday at Center Green
Saturday, November 17, 2018, 10 Center Green
Help Carmel kick off the holidays in grand fashion! Holiday at Center Green features music for the season, a tree lighting, Santa with his live reindeer and the opening of Christkindlmarkt and The Ice at Center Green. Watch for details >>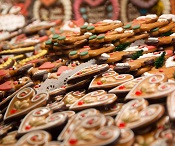 Christkindlemarkt
Saturday, November 17-Sunday, December 23, 2018, 10 Center Green
Experience the charm of a long-standing European tradition in the heart of Carmel. Shop for one-of-a-kind, handmade gifts, enjoy German-inspired food and drink, and slip on some ice skates for some winter holiday fun! Details >>
The Ice at Center Green
Saturday, November 17 through early March, 2018, 10 Center Green
Enjoy ice skating on Carmel's new rink with the elegant Palladium as your backdrop. Details >>
Carmel Clay Historical Society Holiday Home Tour
Friday and Saturday, Nov. 30-Dec. 1, 2018, Carmel Arts & Design District
Tour historic and modern homes decorated for the holiday season in and around the Carmel Arts & Design District. Friday VIP tours will include a reception following the home tour with cocktails and hors d'oeuvres. Details >>
What's your favorite Carmel event, or which one do you want to check out for the first time this year? We'd love to hear in the comments below!
Learn more about living in Carmel >>
---

About the Author
Kristie Smith
Kristie Smith is the founder and CEO of the Indy Homes Real Estate Team. She is a REALTOR, and is one of the most recognized and accomplished Indiana real estate agents. Ranked among Central Indiana's top 10 real estate teams, the Indy Homes Team specializes in relocating families moving to the Indy area, as well as Helping People on the Move locally in Indy.
---
James and The Giant Peach June 15-20, and Guys & Dolls July 26-29.