Indianapolis holiday festivals, here we come!
Posted by Kristie Smith on Sunday, November 25, 2018 at 5:51 PM
By Kristie Smith / November 25, 2018
Comment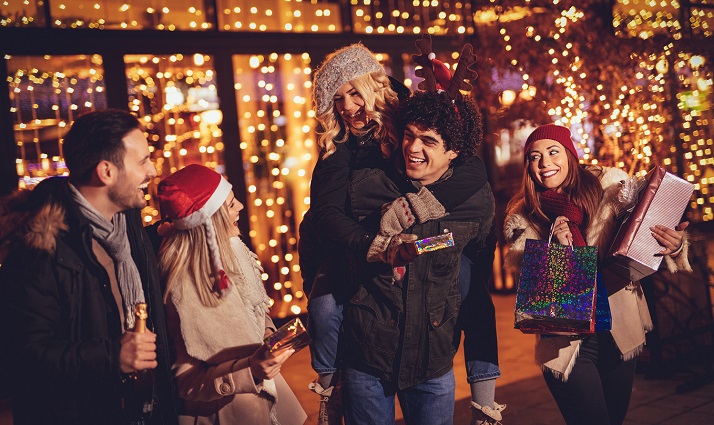 Downtown Indianapolis has so much to offer during this holiday season, whether you're venturing out with family or are looking for adult-only fun. Check out our curated list and stay tuned! We'll catch you up to speed on Carmel and Zionsville festivals next!
Winter Lights at Newfields
Where: Newfields (Indianapolis Museum of Art campus), 4000 Michigan Road, (317) 923-1331, discovernewfields.org
When: Evenings, outside, November 18 through January 6 | 5 – 9 p.m.
What: What better way to get into the sparkly spirit of the holidays than to walk the stately grounds of the IMA campus when the majestic pines and oaks are lit up for the holidays? Hot chocolate, hot cider and spiked cider are available for purchase for guests.
Why it works: Take a respite from the holiday crunch in this beautiful, peaceful and elegant place. Tip: Go after a snowfall – stunning!
Bonus: Christmas at Lilly House is also on the grounds of the IMA, and is included with your admission. Step back in time to experience the holidays in depression-era 1930s and post-war 1940s while you warm up in this lovely and historically accurate home of the original Lilly pharmaceutical family.
How much: $15 IMA adult members/$8 children; $20 nonmembers/$13 children
Festival of Trees
Where: Indiana Historical Center, 450 W. Ohio St., (317) 232-1882, indianahistory.org
When: November 16 through January 5 | 10 a.m. – 5 p.m.
What: Eighty elaborately decorated trees (some are state-themed, others are virtual, and still others may even be upside down!) are on display in IHC's Great Hall. Good for all age groups.
Why it works: Go here to get great ideas the day before you decorate your tree. 'Nuff said.
Bonus: Twilight Tuesdays - Enjoy music of the season from the Indianapolis Children's Choir, Chancel Bells, Chamber Choir, and more during your visit. Performances are at 6 and 7 p.m.
How much: Indiana Historical Center members – free; nonmember adults, $9, seniors $8; kids 5 – 17, $5
Need to find stuff to do with the kids during winter break? Here are some additional holiday programs at the Historical Center:
Story time with Santa - Eli Lilly Hall, weekends at 1:30 p.m. and 3:30 p.m.
Holiday Author Fair – 70 authors on hand with books to sell, Saturday, December 1 | noon to 4 p.m.
Holidays on the Homestead - Saturday December 8 | 10 a.m. through 4 p.m. Find out what Hoosier pioneers did during the holidays. Great for kids!
Seasons of Sharing - Saturday, December 15 | 10 a.m. to 4 p.m. Appropriate for elementary-aged children. Learn about holiday celebrations across the globe.
A Christmas Story – Saturday, December 22 | 10 a.m. to 4 p.m. A family celebration themed around this Hoosier holiday classic including trivia, photo ops, decoder games.
Sugarplum Breakfast - Sunday, Dec. 2 | 10 a.m. to noon. Eli Lilly Hall hosts this sweet breakfast with your kids' favorite Nutcracker characters. Adults (13 and up) – $30; $25 member; Youth (4 to 12) – $22; $17 member; Kids (3 and under) – Free with admission
Selections from The Nutcracker – If your kids aren't quite old enough to sit through the entire performance, this edited version may be perfect. Sunday, Dec. 2 | 12:30 and 2 p.m. Frank and Katrina Basile Theater, History Center – Free with admission.
Jolly Days Winter Wonderland
Where: The Children's Museum of Indianapolis, 3000 N. Meridian St., (317) 334-4000, childrensmuseum.org
When: November 23 through January 6 | 10 a.m. – 5 p.m.
What: The Children's Museum is a fabulous place for families to have fun together. You can't beat the two-story staircase slide! Children can "ice skate" in the sock-skating rink, have a puff-ball snowball fight, and even try indoor ice fishing. Lots of weekend opportunities to breakfast with Santa, too.
Why it works: Hello, winter break! Take the kids for a day where they absolutely, positively won't get bored.
Bonuses:
Santa arrives by Indy car - Friday, November 23, 8:30 – 10 a.m.
Holiday Dinner Theatre – Great way to introduce the kids to fun plays. This year, it's The Ice Queen. Sunday, December 2, 2:45 – 6 pm. Tickets required.
Countdown to Noon – A great take on New Year's Eve, the countdown begins at 10 a.m. Included with admission.
How much: Adults (18-59) $22.75; Kids (2 –17) $18.25; Seniors, $21.75
Jingle Rails: Historic Route 66 and The Great Western Adventure
Where: Eiteljorg Museum of American Indians and Western Art, 500 W. Washington St., (317) 636-9378, eiteljorg.org
When: November 17 through January 14 | 10 a.m. to 5 p.m.
What: Great for kids and adults, Jingle Rails is a rustic wonderland of model trains, chugging past iconic national landmarks and landscapes such as Mount Rushmore and the Grand Canyon. The display also includes local landmarks like Lucas Oil Stadium and Union Station — all decorated for the holidays.
Why it works: Talk about family-friendly! Model trains bring out the kid in all of us.
Bonus: While you are at The Eiteljorg, explore re-created L.S. Ayres holiday window displays and have tea and cookies in the historic L.S. Ayres Tea Room. (Your mom will love this!)
How much: Adults $15, Kids (5-17) $8, Seniors $12
Christmas at the Zoo
Where: Indianapolis Zoo, 1200 W. Washington St., (317) 630-2001, indianapoliszoo.com
When: November 23 through December 30 | 5 – 9 p.m. weekdays, 5 – 10 p.m. Fridays and Saturdays
What: Christmas at the Zoo has been around for 50 magical years and still is going strong. Tour the zoo at night, with lights, and enjoy the animals.
Why it works: Who doesn't love animals? Add lights and you've got magic, whether it's just the two of you or Uncle Jim, Nana and the kids.
Bonus: Lots of activity stations for younger kids:
Santa's Study: Visit Santa through Dec. 23.
Mrs. Claus' Kitchen: Decorate cookies with Mrs. Claus through Dec. 23.
Santa's Barn: Climb on Santa's sleigh and pet his reindeer.
Tunnel of Lights: Surround yourself in glowing lights.
Penguin Encounter: Get up close to these winter-ready birds from 6-8 p.m. (animal and weather dependent).
How much: Adults $15, Kids (5-17) $8, Seniors $12
Indianapolis Symphony Orchestra: "Yuletide Celebration"
Where: Hilbert Circle Theatre, 32 E. Washington St., (317) 639-4300, indianapolissymphony.org
When: November 30 through December 23 | 2 p.m., 6 p.m. and 8 p.m., depending on day of week
What: A gorgeous place to begin with, the Circle Theatre really sparkles during this classic family-friendly medley of new and old holiday hits. Literally something for every age.
Why it works: Tap dancing Santas are the icing on the cookie!
How much: Depends on where you sit, and what day of the week. Book in advance.
INDIEana Handicraft Exchange's Holiday Mini
Where: Harrison Center for the Arts, 1505 N. Delaware St., indieanahandicraftexchange.com
When: December 7 | 5– 10 p.m.
What: An upscale artsy gift fair for the holidays, featuring 50 vendors with handmade, artisan goods.
Why it works: Great place to get hard-to-buy-for and one-of-a-kind gifts. From jewelry to home items to chocolate.
How much: Free
Stutz Artists Association's "All Wrapped Up" Holiday Open House
Where: Stutz Business Center, 212 W. 10th St., (317) 292-3200, stutzartists.com
When: December 7 | 5 – 10 p.m.
What: Fine artists in residence showcase and sell original sculpture, jewelry, silver crafts, and works of art.
Why it works: Add to a collection or start one. Great place to browse while enjoying live music and adult beverages. Definitely not for kids.
How much: Free
Yelp's Totally Bazaar Pop-up Shopping
Where: Indianapolis Central Public Library, 40 E. St. Clair St., (317) 275-4100, yelp.com/events/Indianapolis-yelps-totally-bazaar-4
When: December 11 | 6 to 10 p.m.
What: Pop-up shopping packed with local food and beer vendors, artisans, vintage shops, unusual toys, and funky jewelry.
Why it works: Stocking stuffers and hip, original stuff. Teens and adults will enjoy this.
How much: Free
Tchaikovsky's The Nutcracker
Where: Clowes Hall, 4602 Sunset Ave., (317) 940-6444, cloweshall.org
When: November 29 through December 2 | various times
What: Butler Ballet presents the only fully staged production of Tchaikovsky's world-famous ballet in Central Indiana. A holiday tradition, perfect for all ages.
Why it works: Spectacular dancing, beautiful costumes, glorious scenery, and pyrotechnical magic. A must-see.
How much: Prices by seating. Purchase tickets online in advance.
We'd love to know... what are your favorite holiday festivities in downtown Indianapolis? Tell us in the comments below!
---

About the Author
Kristie Smith
Kristie Smith is the founder and CEO of the Indy Homes Real Estate Team. She is a REALTOR, and is one of the most recognized and accomplished Indiana real estate agents. Ranked among Central Indiana's top 10 real estate teams, the Indy Homes Team specializes in relocating families moving to the Indy area, as well as Helping People on the Move locally in Indy.
---