2018 Indianapolis home tours and garden walks
Posted by Kristie Smith on Thursday, May 3, 2018 at 2:07 PM
By Kristie Smith / May 3, 2018
Comment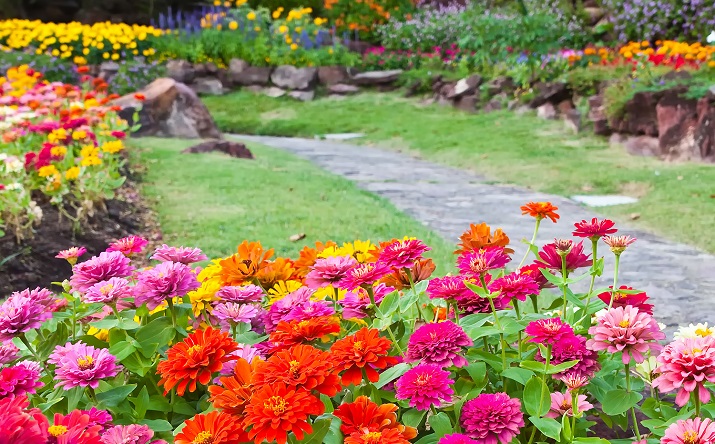 If you're into watching the shows on HGTV, you probably love a great home and garden tour, too. You're in luck, because Indianapolis offers a wide variety of tours all year long. Need home décor inspiration? Check. Have a green thumb or wish you did? Double check. Love vintage homes and historic preservation? You're covered. Want an extra boost of cheer around the holidays? You got it!
Here, we've compiled a list of Indianapolis home and garden tours for the remainder of 2018. From tours in Indy's most popular neighborhoods to its surrounding suburbs, we think your craving for real-life HGTV will be satisfied!
Let us know in the comments… which home and garden tour are you looking forward to most?
Now through May 13: 2018 Decorators' Show House and Gardens
St. Margaret's Hospital Guild presents its 57th Annual Decorators' Show House and Gardens. Located in the Butler-Tarkington neighborhood at 4140 North Illinois Street, this unique 92-year-old residence provides many opportunities for highlighting periods in Indianapolis history, for showcasing the talents of local designers and landscapers, and for supporting the innovative programs of Eskenazi Health. Details >>
May 5: Cottage Home Home & Garden Tour 2018
Cottage Home Neighborhood Association invites you to visit more than a dozen homes in one of Indy's most beautiful and historic Near Eastside neighborhoods. You'll be welcomed into some of Cottage Home's eclectic vintage cottages, newly built modern homes, private and community gardens and businesses. Details >>
June 6: Indianapolis Garden Club 23rd Annual Garden Walk
Since 1996, the Indianapolis Garden Club has showcased five beautiful, private gardens across the city each summer. This year, the club introduces "The Fine Art of Gardening" by highlighting a local artist working en plein air within each garden. Optional luncheon at Woodstock Club. Details >>
June 16-17: Meridian Kessler Home Tour
The homes for the Meridian Kessler Home Tour are selected not just for their superb design and architectural elements, but to highlight a wide variety of styles—from DIY bungalows and cottages to professionally decorated manors. Details >>
June 23: Gardens of Zionsville
Tour several beautiful gardens around Zionsville! This year, the Garden Market returns, with its collection of specialty retail and art boutiques to liven up the home and garden. The SullivanMunce Cultural Center kicks off the tour with a garden party and reception the night before. Details >>
June 23-24: Plainfield Garden Tour
Each year, the Plainfield Garden Tour chooses gardens that will be enjoyable and educational. A variety of gardens, large and small, sunny and shady, illustrate just what can be done with different situations gardeners might face. Some of the gardens are professionally designed and installed, while others are entirely done by the homeowners themselves. Details >>
June 24: Irvington Garden Tour
Since its first tour in 2000, the Irvington Garden Club has highlighted the best gardens in historic Irvington on Indy's eastside. Details >>
Sept. 15: 32nd Annual Noblesville Historic Home Tour
Enjoy exclusive access to some of historic Noblesville's most outstanding private residences and cultural sites. Benefiting the Noblesville Preservation Alliance. Details >>
Sept. 15-17: Architects' Home Tour
Gain an appreciation for homes designed by architects! The main goal of the Architects' Home Tour is to increase the use of architects in residential construction by showcasing those on the tour, and to raise funds for the Indianapolis AIA chapter. Details >>
Sept. 22-23: Broad Ripple Historic Home Tour
Tour homes throughout Broad Ripple Village, taking in its wonderful diversity and character. Learn fascinating facts about each home and those who have lived in it over the years, meet the owners, and take away decorating and renovation ideas. Details >>
Nov. 30-Dec. 1: Carmel Clay Historical Society Holiday Home Tour
Tour historic and modern homes decorated for the holiday season in and around the Carmel Arts & Design District. Friday VIP tours will include a reception following the home tour with cocktails and hors d'oeuvres. Watch for details >>
Dec. 1: Arts for Lawrence Holiday Home Tour
Here's your chance to explore Historic Fort Harrison in Lawrence Township and view the homes and businesses that were once filled with military sergeants, captains and more! All destinations are beautifully renovated, decorated for the holidays and include live music, food and drink. Proceeds benefit Arts for Lawrence. Details >>
Dec. 8: Homes for the Holidays Tour
Gain exclusive access to five of Old Town Noblesville's historic homes dressed up for the holiday season and brimming with holiday cheer. Enjoy themed décor, hors d'oeuvres, and sounds of the season! Details >>
Let us know in the comments… which home and garden tour are you looking forward to most?
---

About the Author
Kristie Smith
Kristie Smith is the founder and CEO of the Indy Homes Real Estate Team. She is a REALTOR, and is one of the most recognized and accomplished Indiana real estate agents. Ranked among Central Indiana's top 10 real estate teams, the Indy Homes Team specializes in relocating families moving to the Indy area, as well as Helping People on the Move locally in Indy.
---