3 things to know before you move to Indy
Posted by Kristie Smith on Saturday, June 28, 2014 at 2:15 PM
By Kristie Smith / June 28, 2014
Comment
Even after living in Indiana for nearly two decades and selling real estate all over central Indiana, I still learn new things about our state daily. For example, when someone tells me that they are from Peru or Mexico, they may actually mean the Hoosier cities bearing those names not the Central and South American countries. And there's Brazil, Indiana. Greensburg, Greenfield, Greencastle—which can all get very confusing.
Not to worry, the Indy Homes Team is here to help make sense of all things Hoosier for families relocating to Indianapolis. Here are 3 things to know before you move to Indy:
1. We have top-ranked schools.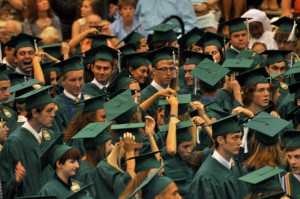 According to US News & World Report, six of the Top 10 Indiana High Schools are right here in Indianapolis and surrounding counties. From the arts-focused Herron High School to the suburban super schools, an amazing education is available to families relocating to Indianapolis.
2. Indiana suburbs top some pretty awesome lists.
I recently posted about Carmel and Fishers grabbing the #1 and #2 spots respectively on Movoto.com's list of safest suburbs in the whole country. That's pretty amazing! Also in 2013, CNN Money Magazine named Westfield, IN as the #18 Best Place to Live in America.
3. You can find work here.
"CareerBliss named us as the ninth best city to find a job, and Forbes lists us at No. 24 for Best Places for Businesses and Careers," Travis Sawrie wrote in his Movoto.com "31 Things You Need to Know about Indianapolis" post. "It's becoming known as the 'Silicon Valley of the Midwest.' At least that's what people from Indy are saying. No bias though right?"
The Indy Homes team can share tons more information on Indianapolis, surrounding counties, new home builders, schools, and so much more. We like to get out and dine in this city, so we've got some great bar and restaurant suggestions, too. (Indy has a growing craft beer scene, which is pretty fun!) We're here to help you and your family acclimate to Indy seamlessly and we look forward to showing you around this amazing town.
Oh, and we do love Andrew Luck even though we miss Peyton Manning badly. Go Horse!
---

About the Author
Kristie Smith
Kristie Smith is the founder and CEO of the Indy Homes Real Estate Team. She is a REALTOR, and is one of the most recognized and accomplished Indiana real estate agents. Ranked among Central Indiana's top 10 real estate teams, the Indy Homes Team specializes in relocating families moving to the Indy area, as well as Helping People on the Move locally in Indy.
---