Home trend: Dog showers
Posted by Kristie Smith on Friday, June 15, 2018 at 5:47 PM
By Kristie Smith / June 15, 2018
Comment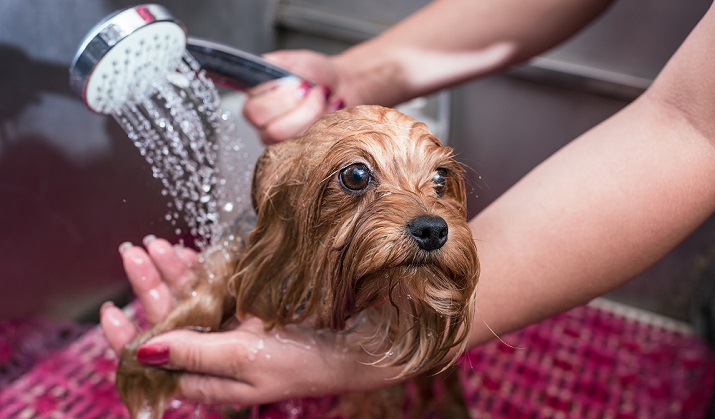 Last month, we listed and sold a lovely 1961 French provincial-inspired ranch in Indy's popular Devonshire neighborhood. Among its many amenities, this home featured a fully updated walkout basement that opened to a heavily wooded private backyard that our clients' dogs loved. Only the pet parents didn't love the dirt the dogs tracked in. So, when they planned the basement revamp, they added a dog shower. And what an improvement it was! Post-installation, the dogs could be led right to the dog shower to have their paws promptly rinsed off after a fun romp in the backyard. So easy!
A practical trend for dog owners
It may seem luxurious, but dog showers or dog-washing stations are growing in popularity among dog owners. Not only does a dog shower help the pet's owner keep it clean and healthy, it saves wear and tear on the home, too. A shower just for the dog keeps dog hair and wet dog smell out of the bathroom. (Yuck.) And a well-placed shower prevents your dog from tracking in salt and sand that can damage your hardwood floors and saves the cost of having rugs and carpets cleaned, too.
Planning your dog shower
Often located in mud rooms or garages, dog showers are popping up more and more in the plans of high-end home builders. Dog showers are slightly raised from the floor level to make bathing the dog comfortable for the pet owner. Hand-held showers, built-in shampoo shelves and a towel bar (as in the Devonshire home, shown below) make the task easy and convenient. Even if you don't have a dog, dog showers can be handy for rinsing off sports gear, beach chairs and more! Check this article from This Old House for more on planning your dog shower.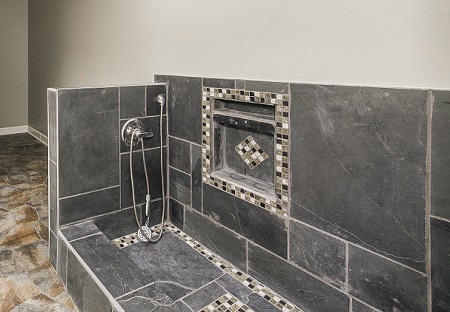 Want to install a dog shower in your home? It can set you back $2,000 to $5,000, depending on the size of the shower and the faucet hardware and type of tile you select. But, as mentioned above, you'll make up the expense in home maintenance costs and maybe even groomer fees!
We can help!
If a dog shower is on your list of must-haves for your next home, we'll help you find the perfect home for you and your furry friend! Unfortunately, MIBOR doesn't have "dog shower" as one of its search criteria (yet), but for your convenience, we've listed current dog-friendly homes (those with fully fenced backyards) for sale below.
---

About the Author
Kristie Smith
Kristie Smith is the founder and CEO of the Indy Homes Real Estate Team. She is a REALTOR, and is one of the most recognized and accomplished Indiana real estate agents. Ranked among Central Indiana's top 10 real estate teams, the Indy Homes Team specializes in relocating families moving to the Indy area, as well as Helping People on the Move locally in Indy.
---
Homes for Sale with Fenced Yards