Weekend getaway: Finding tranquility at the lake
Posted by Kristie Smith on Monday, September 23, 2019 at 4:04 PM
By Kristie Smith / September 23, 2019
Comment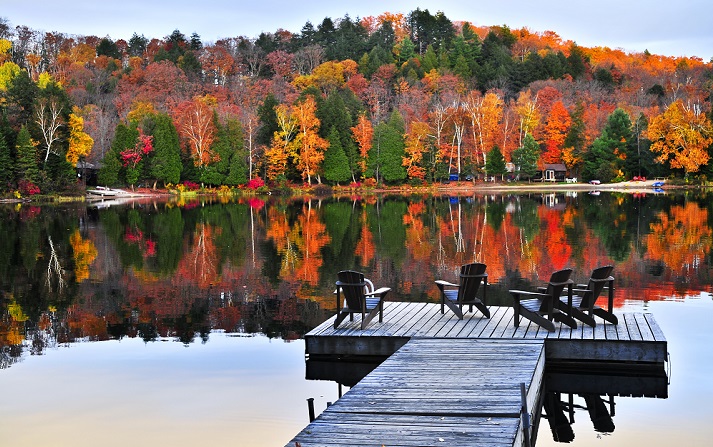 Summer is always busy for me, and with the real estate market still going gangbusters in Indianapolis, this past season was no exception. It seemed that my phone was always ringing, pinging or beeping. Such is the life of a REALTOR.
But when a good friend invited me to her family's lake cottage at Sweetwater Lake for a recent weekend, I decided to take the opportunity to shut off my phone for a couple of days and to be totally present with my friends and their kids. We arrived Friday evening, and in the morning, I woke to the tranquility of the calm lake, listening to the sound of the gently lapping water. We enjoyed cooking breakfast, while chatting and watching the kids—three girls and three boys—go about their fun. Their delight in being at the lake was contagious! Later in the day, we boated and basked in the sun, and topped off the day by making s'mores at the firepit.
As I watched the sun set behind brilliant pink and orange clouds that evening, a sense of contentment and peace came over me. The entire weekend was a reminder that the simplest pleasures are the ones that mean the most, and that we all need to take time to connect with others despite the craziness of our day-to-day lives.
So, what do you consider life's simple pleasures? How do you get back to what's truly important to you? I'd love to know—share in the comments below.
By the way, if you're interested in finding a tranquil lake house—anything from a cozy cottage to an executive retreat—at one of Indiana's dozens of lakes, give me a call or drop me a line! (And yes, I know we're heading into fall, but it's never to early to plan!) I can help in the immediate Indianapolis area, or refer you to a great REALTOR in another part of the state who will serve you with the same level of service that my team and I would.
View Indianapolis-area waterfront homes:
More tips on buying a waterfront home:
---

About the Author
Kristie Smith
Kristie Smith is the founder and CEO of the Indy Homes Real Estate Team. She is a REALTOR, and is one of the most recognized and accomplished Indiana real estate agents. Ranked among Central Indiana's top 10 real estate teams, the Indy Homes Team specializes in relocating families moving to the Indy area, as well as Helping People on the Move locally in Indy.
---