Tired of the Chicago grind? Give Indianapolis a look
Posted by Kristie Smith on Thursday, October 19, 2017 at 3:22 PM
By Kristie Smith / October 19, 2017
1 Comment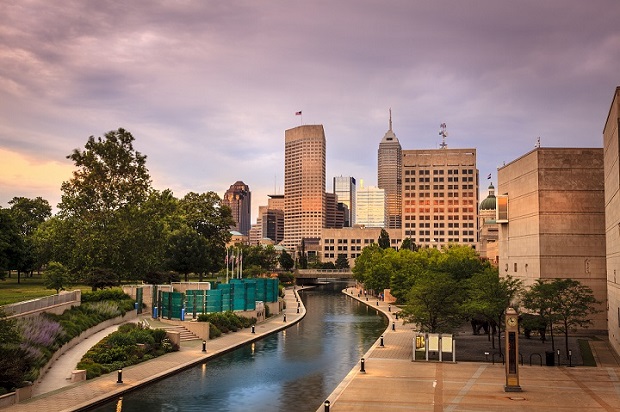 We get it—Chicago is an amazing city with so much to see and do. But it can be impersonal, expensive, frustrating and COLD! If you're re-thinking the rat race of Chicago living, we invite you to give Indianapolis a look. Indy offers a low cost of living, plenty of good jobs, tolerable winters, a hot foodie scene, amazing cultural institutions and a mellower pace!
Check out our list of Indianapolis pros:
Lower cost of living
If you make $100,000 in Chicago, you will need to make only $76,923 in Indianapolis to enjoy the same lifestyle, according to CNN Money's cost of living calculator. Housing is 44 percent cheaper, transportation costs 27 percent less and groceries ring in 14 percent cheaper. Depending on the neighborhood, $300,000 in Chicago can buy a two-bedroom, two-bath condo while the same amount will purchase a nicely upgraded single-family home in some of Indy's most popular neighborhoods. Chicago's property taxes can significantly up your monthly mortgage payment, and they're among the highest in the country, beating out even New York and LA, according to Movoto. Movoto also reports that Indianapolis' property tax rate is very low, lower than even the national average.
Job opportunities
Long known for manufacturing, health care and pharma, Indianapolis has been working to build its tech footprint with tax incentives and other strategies. Salesforce, which acquired home-grown ExactTarget several years ago, plans to expand its Indy workforce, and many tech startups, like PolicyStat, SmarterHQ and FormStack, have made Indy their home. In September, Indianapolis was named the second-best city for jobs by Glassdoor. Ratings were based on opportunity, cost of living and job satisfaction, and median base salary for jobs available and median home value were also accounted for. According to Glassdoor, marketing managers, development and operations engineer and machine operator are among Indy's "hot jobs." Chicago came in no. 23 on the list.
With its efficient, effective government and "right to work" status, Indiana is attractive to businesses in a variety of industries. Chief Executive magazine ranked Indiana no. 5 in its 2017 list of states for business (Illinois was 48th), and the Chicago Tribune recently bemoaned the fact that more and more Illinois companies are leaving for the Hoosier state.
Better 'burbs
Indy's suburbs are frequently included at the top of quality-of-life lists. Carmel was recently named No. 1 small city in America to raise a family by SmartAsset.com and best place to live in America by Niche.com and 24/7 Wall St., while Fishers was named the top place to live by Money magazine. And Zionsville was the only Indiana town or city to make Safewise's list of the 100 safest cities in the U.S.
Milder winters
Chicago and Indy have similar average January high temps (32 and 34 degrees, respectively according to Weather.com), but Chicago gets much more snow—35 inches on average versus Indianapolis' 21. Factor in the wind off Lake Michigan, and Chicago can be frigidly miserable, especially when you have a 10-minute walk to the closest train station or are standing on an open station platform.
Accessibility
Compared to Chicago, traffic in Indianapolis is a breeze. For the amount of time you're stuck on the Dan Ryan or Kennedy on a Sunday afternoon, you can drive from one end of Indy to the other. And because things are less spread out, it's easy to get out and enjoy all that Indy has to offer. If you fly frequently—you're in luck. Indianapolis International Airport is considered one of the top airports in the country for its mix of local restaurants, amenities, accessibility and sense of place. While Chicago's public transportation system is extensive, Indy is working on improving its own system, which includes significant investment in the bus network, new rapid transit lines and extended service.
Arts, culture and food
Chicago has so much to offer when it comes to the arts, culture and food. But Indy isn't far behind! In fact, Indy is ranked just one spot behind Chicago on Travel & Leisure's 2017 "America's Favorite Cities" list, and it seems every major media outlet has spotlighted Indy recently for its innovative, chef-driven restaurants; lively, walkable downtown; cultural institutions (like the highly lauded Children's Museum and the Indianapolis Museum of Art) and laid-back charm. Read some of the accolades here:
Now that we've opened your mind to Indy's possibilities, we are happy to answer any questions you have about our wonderful city. As Indianapolis experts, we can give you further insights on great areas to live, schools, employers, the best restaurants and museums and more! Give us a call at (317) 815-4450, or comment below!
TIP: If you do move to Indy and hunger for a taste of Chicago, you can always seek out the Chicago restaurants that have migrated south over the past few years : Portillo's, Giordano's and Kuma's Corner!
---

About the Author
Kristie Smith
Kristie Smith is the founder and CEO of the Indy Homes Real Estate Team. She is a REALTOR, and is one of the most recognized and accomplished Indiana real estate agents. Ranked among Central Indiana's top 10 real estate teams, the Indy Homes Team specializes in relocating families moving to the Indy area, as well as Helping People on the Move locally in Indy.
---