Find cheerleading programs in Indy's north suburbs
Posted by Kristie Smith on Thursday, December 14, 2017 at 12:25 PM
By Kristie Smith / December 14, 2017
Comment
If your child has energy to burn and is interested in tumbling, dance and teamwork, the sport of cheerleading could be for him or her!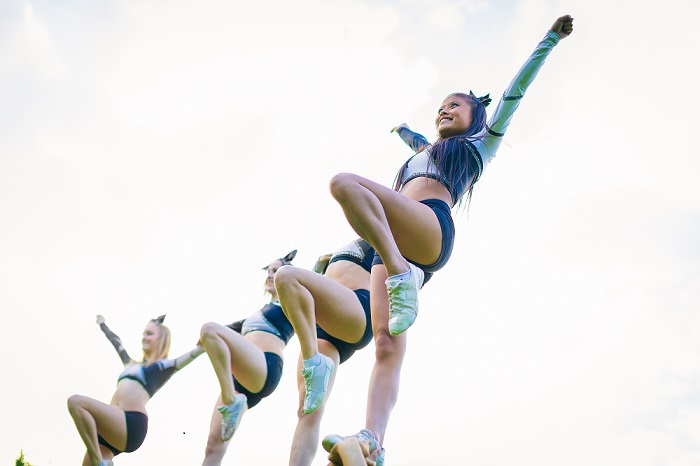 Isn't cheerleading a school extracurricular?
You're no doubt familiar with cheerleaders who pump up the fans during school sporting events, but the sport of competitive cheerleading looks a bit different. You won't find pompoms, chants and cheers. Instead, competition cheerleaders practice a 2.5-minute routine most of the year to prepare for months of competition (generally October through April). The routines are fast-paced, highly synchronized blends of choreography, tumbling, jumps and stunts.
What are competition and noncompetition options?
Most of the gyms highlighted here offer competition ("all star") cheerleading and exhibition (noncompetition) cheerleading.
Competition travel teams travel to 7-9 regional and national competitions during competition months. The season begins in April/May with evaluations and placement. Athletes work on skills and choreography throughout the summer and competition begins in October and continues through April.
"Prep" competition teams are limited in travel (3-4 competitions closer to home), although these athletes also work year-round.
Exhibition cheerleading is the least intense of the options—in general, performances are not mandatory.
How are kids placed on teams?
Athletes are categorized by both age and skill level and are placed on the appropriate team after a tryout/evaluation. Level 1 teams are for beginners, and at the other end of the scale, level 6 teams are for the most advanced athletes. When evaluating athletes, coaches look for a variety of characteristics, including tumbling difficulty, tumbling execution, athleticism and attitude. A coach's objective is to find the right fit for each athlete to ensure safety and balance within the team.
Although the U.S. All Star Federation, the governing body for the sport, sanctions a wide age range for each team category, it highly recommends that programs be vigilant in monitoring participants of various ages on the same team and that, whenever possible, establish teams made up of participants of similar ages.
All star team categories:
Tiny – ages 3-6
Mini – ages 5-8
Youth – ages 5-11
Junior – ages 5-14
Senior – ages 10-18
How do I choose the right program for my child?
There are several steps you can take to thoroughly research programs, gyms and staff to find the right fit for your child.
Review gyms' websites. What programs are offered and what is the background of the various staff?
Visit the gym in person to get a better feel for it. How clean is it? How attentive and friendly are the staff? How are classes conducted?
Talk to other parents in your community. What do they like about their child's gym?
Talk to the programs' coaches to learn more about them and their coaching philosophy.
Kelli Keller, a cheerleading coach at Zionsville West Middle School and former all star cheer mom, says coaches are eager to ensure a great fit for your child. "Coaches are serious about the business of helping kids grow. Like parents, they want to help them find what works well for them."
What else should I take into account when choosing a program?
Time commitment, travel and expenses all need to be considered seriously, says Keller.
Time commitment. In general exhibition teams practice once a week for one hour, while competition teams practice at least twice a week for two hours. Competition team practice is mandatory, while exhibition team practice is not. Competition teams also travel throughout the year to competitions. Exhibition teams perform locally, and these performances are considered optional. Prep teams also compete, but travel is limited.
Travel commitment. Competition teams travel during weekends throughout the competition season. Travel teams travel regionally and even nationally, while prep teams' travel is more limited.
Expenses. Gym tuition, uniform fees and travel all add up!
Keller advises parents to treat competition cheerleading as any other travel or team sport—that is, coaches, teammates and other parents are counting on your child to make it to practice and competitions.
"Kids really learn to be committed to their team," she said. "It's not like the coach has another athlete waiting on the sidelines to take her place if a kid doesn't show up."
What will my child gain from cheerleading?
As with other team sports, kids in cheer learn time management, respect, responsibility, teamwork and confidence.
Find a cheer program in the Indianapolis area
Indianapolis' northside and northern suburbs offer a variety of gyms and programs for both boys and girls interested in cheerleading. These programs come highly recommended by the moms of the Z'ville Moms Facebook group.
Champion Gym
513 West Main Street, Lebanon, IN 46052 | (317) 508-1336
Types of cheer teams: Competition team (no minimum age—placement is based on skill level) and performance teams (ages 4 to middle school) [note that practice and performances are mandatory for performance teams].
Other offerings: Toddler tumbling classes (ages 2-4); tumbling classes for older kids. COMING SOON: Adult tumbling classes.
For more information, visit Champion Gym on Facebook or call (317) 508-1336.
Hollywood All Stars
12345 N. Old Meridian Suite 100, Carmel, IN 46032 | (317) 818-8480
Types of cheer teams: Full and half-season competition travel teams. Teams are open to athletes ages 6-18.
Other offerings: Tumbling classes beginning at age 4. Private lessons. Training for school squads.
For more information, visit hollywoodcheer.com or call (317) 818-8480.
ICE Cheer
17435 Tiller Ct., Suite B, Westfield, IN 46074 | (317) 867-3939
Types of cheer teams: Competition travel teams (6-7 competitions/season), limited travel competition teams (4 competitions/season, close to home), quarter-season teams (2-3 competitions, February through April). Teams are open to athletes under 6 to 18. An exhibition "tiny" team is also open to ages 4-6.
Other offerings: Tumbling classes and classes for specific moves (back handspring, for example). ICE Cream Kids classes (ages 2-5) focus on coordination, confidence, flexibility and strength.
For more information, visit indy.icecheer.com or call (317) 867-3939.
Indiana Elite
14888 Herriman Blvd., Noblesville, IN 46060 | (317) 770-9100
Types of cheer teams:
Worlds competition team—Travels regionally in its quest to receive a Worlds bid.
National competition teams (grades 3-12)—Attends competitions throughout the Midwest as well as one national championship every other year.
Regional competition teams (grades K-9)—Most competitions attended are in Indiana.
Local competition teams (grades K-3)—All competitions are in Indiana.
Exhibition teams (preschool through K)—Optional local performances.
Half-year competition teams (grades 1-12)—Compete October through April.
Other offerings: Tumbling classes and summer camps.
For more information, visit indiana-elite.com or call (317) 770-9100.
Indy Stars Cheer
8070 Georgetown Rd., Indianapolis, IN 46268 | (317) 986-5707
Types of cheer teams: Competition and exhibition. Competition teams are open to athletes ages 5 to 18 and exhibition teams are for athletes 5 to 11.
Other offerings: Dance, gymnastics, adaptive gymnastics (including a Special Olympics team), holiday camps.
For more information, visit indystars.net/cheer or call (317) 986-5707.
Interactive Academy
3795 South U.S. 421, Zionsville, IN 46077 | (317) 733-3000
Types of cheer teams: Travel, prep, and exhibition. Competition teams are open to athletes ages 4 and up and exhibition teams are for athletes 3 to 11.
Other offerings: Gymnastics, dance, tumbling, swim, holiday and summer camps.
For more information, visit interactiveacademy.com or call Barb Weaver, (317) 733-3000 x1154.
Share your experiences as a cheer parent in the comments below!
---

About the Author
Kristie Smith
Kristie Smith is the founder and CEO of the Indy Homes Real Estate Team. She is a REALTOR, and is one of the most recognized and accomplished Indiana real estate agents. Ranked among Central Indiana's top 10 real estate teams, the Indy Homes Team specializes in relocating families moving to the Indy area, as well as Helping People on the Move locally in Indy.
---