Enjoy Indianapolis' June events, festivals and fun!
Posted by Kristie Smith on Thursday, June 1, 2017 at 4:34 PM
By Kristie Smith / June 1, 2017
Comment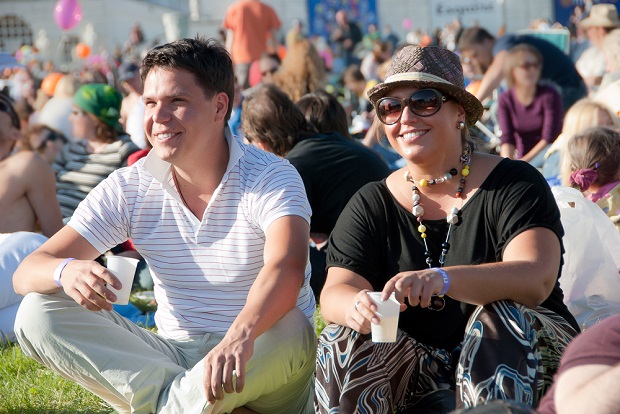 The month of June in Indianapolis has its own delights. As summer takes hold, the festivals, cultural standbys and sporting events are plentiful, and plenty fun! This list we compiled reflects just a fraction of all the things taking place in Indy this month. Let's hope the rain holds off, and get out and enjoy!
Museum Nights on the Canal, Indiana History Center: Thursdays, June 1-July 27—Museum Nights on the Canal return this summer with concerts that will range from jazz, blues and swing to rock, R&B and pop favorites. And admission is free to the museum! Catch the concert and enjoy extended hours to see the latest exhibits. Details >>
National Donut Day: June 2—Who makes the best donut in Indy? Live from Monument Circle, WIBC crown a winning donut! Stop by to see local celebrity judges and to snag a free donut from The Salvation Army. Details >>
Indy Rama: June 2-11—This year's Indy Rama showcases eight custom-built, fully decorated and landscaped Downtown Indy homes. Check out the latest trends in design, decorating, technology, outdoor living and landscaping. Details >>
Summer Nights at IMA: Fridays, June 2 through August 25—Bring a picnic dinner and catch some great vintage films during the 2017 Summer Nights Film Series presented every Friday night and almost every Saturday night in the IMA's fantastic outdoor amphitheater. Details >>
Historic Meridian-Kessler Home & Garden Tour: June 3-4—The annual tour features eight homes and gardens in one of our favorite Indy neighborhoods. Homes are selected not just for their superb design and architectural elements, but to highlight a wide variety of styles—from DIY bungalows and cottages to professionally decorated manors. Details >>
Strawberry Festival: June 8—Celebrate the perfection of fresh Indiana strawberries! Pick up your strawberry shortcake on the Circle and support local, national and international not-for-profit outreach groups through the Christ Church Cathedral. Details >>
Italian Street Festival: June 9-10—Come out for the city's much-loved and most-attended church festival! Enjoy delicious Italian food, wine and beer, live music, amusement rides and free admission. Details >>
CrimeCon: June 9-11—CrimeCon is billed as a celebration of all things true-crime. If your idea of the perfect night involves alibis, motives and a bottle of wine, this is the event you've been waiting for! Details >>
Circle City Pride Festival: June 10—This all ages event is Indiana's largest LGBT celebration and takes place in a larger space this year: White River State Park. Details >>
Symphony on the Prairie: weekend nights, June 16-September 3—Sit back, relax with some wine and a picnic and enjoy the wonderful sounds of Symphony on the Prairie! This year's lineup includes a variety of musical styles from pop to classical to rock 'n' roll. Details >>
Talbot Street Art Fair: June 17-18—With more than 270 artists from across the U.S., this juried art fair continues to be ranked as one of the finest fairs in the country. As always, admission is free (as is gawking at the pretty Victorian houses of Herron-Morton)! Details>>
Gardens of Zionsville Tour: June 24—Tour seven private gardens throughout Zionsvillle, get summer tablescape ideas, bid on container gardens planted by local designers and area businesses, and see and purchase garden and floral art by members of Indiana Plein Air Painters Association. Details >>
Indy Ultimate: June 24—Have you ever dreamed of kicking a field goal at Lucas Oil Stadium or running the bases at Victory Field? Here's your chance! The Indy Ultimate is an urban adventure race featuring challenges and activities on a seven-mile downtown course through iconic sports, military and cultural venues. Experience Downtown Indy like you've never done before! Details >>
Eiteljorg Indian Market & Festival: June 24-25—Meet Native American artists from more than 60 tribes and purchase their handmade art, including jewelry, pottery, beadwork, cultural items, basketry, paintings, sculpture and weavings. The weekend also features performances from renowned Native American musicians Arvel Bird and Tony Duncan, as well as family-friendly cultural demonstrations of Native art, cooking and storytelling. Details >>
2017 Phillips 66 National Championships and World Championship Trials: June 27-July 1—The swimming stars of the Rio Olympic Games and approximately 900 other up-and-coming elite athletes from around the United States will converge on Indianapolis to compete in the 2017 Phillips 66 National Championships and World Championship Trials. Don't miss this opportunity to cheer on your favorite swimmers! Details >>
Do you have a can't-miss, favorite summer event that you go to every year? Tell us in the comments!
---

About the Author
Kristie Smith
Kristie Smith is the founder and CEO of the Indy Homes Real Estate Team. She is a REALTOR, and is one of the most recognized and accomplished Indiana real estate agents. Ranked among Central Indiana's top 10 real estate teams, the Indy Homes Team specializes in relocating families moving to the Indy area, as well as Helping People on the Move locally in Indy.
---