Enjoy these Halloween events in Indianapolis with the kids!
Posted by Kristie Smith on Monday, October 3, 2016 at 11:35 PM
By Kristie Smith / October 3, 2016
Comment
Looking for kid-friendly Halloween events in Indianapolis? You're in luck—Indianapolis' parks, museums and organizations offer a full month of fun for the kids. But these Halloween events aren't just about the kids—you'll have the fun of watching your kiddos experience the shivery delight of getting spooked, dressing in their fave costume, meeting new friends and, of course—gathering treats!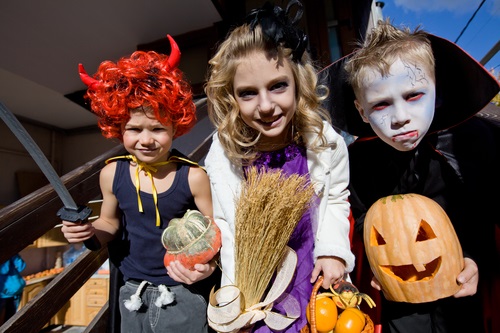 Zoo Boo – Oct. 7-9, 14-16, 21-23, 28-30
Dress the kids as their favorite wild animal and head to the Indianapolis Zoo for ZooBoo! With mild temperatures, it's a great time of year to see the animals, who are ready to get into the Halloween spirit! Be sure to see the dolphins' Halloween-themed presentations and the pumpkin-gut splattering fun of the Elephant Pumpkin Smash. The kids will love gathering treats along the ZooBoo trail, bowling with pumpkins and dancing to the DJ's spooky music!
More information: indianapoliszoo.com
The Children's Museum Guild's Haunted House Cursed Castle – Oct. 8-30
The Children's Museum Guild of Indianapolis' renowned Children's Museum presents its 53rd annual haunted house—the Cursed Castle! Will your little one be able to break the dragon's curse? Lights-on hours ensure kids who scare easily can experience the castle with little fear. "Frightening Hours" are for kids who dare to be scared!
More information: childrensmuseum.org
Headless Horseman at Conner Prairie – Oct. 13-16, 20-23, 27-30
Conner Prairie's Headless Horseman is a staple of the Halloween season in Indianapolis! Come face-to-face (er… face-to-neck?) with him on the Prairie's family-friendly haunted hayride. Additional evening activities include a marionette show, fortune telling, fun-loving ghouls, scary-o-ke, games and shows. New Halloween fun this year includes a wooded trail of spooky scarecrows and lurking creatures after dark, as well as a Zombies of Conner Scairie game!
More information: connerprairie.org
Historic Irvington Halloween Festival – Oct. 22-29
Irvington's Halloween festivities, dating back to the 1920s, have long been a tradition within this tight-knit east-side community. This year, enjoy a week's worth of Halloween fun, which includes the traditional costume parade, a large street fair, a spooky organ concert, ghost tours, a fun run, a zombie bike ride, a variety of contests, and much, much more.
More information: irvingtonhalloween.com
Colts Kids Halloween Party – Oct. 25
Members of Colts Kids Club (it's $25 to join, go to www.colts.com/kids) are invited to join Colts players and cheerleaders for a night of trick-or-treating, games and festivities at Lucas Oil Stadium! Kids can meet Blue, the Colts mascot; get autographs from their favorite players and cheerleaders; compete in a costume contest; have their face painted; tour the Colts locker rooms and more!
More information: colts.com
Ghosts, Ghouls and Goblins Night Out at Keller Williams Northeast – Oct. 27
Our Keller Williams clients are invited to join us at our office at 8555 N. River Road, Suite 200, for Ghosts, Ghouls and Goblins Night Out! Bring your kiddos between 5:30 and 7:30 p.m. for trick-or-treating, bobbing for apples, cookies and juice, games and more!
Science Spooktacular – Oct. 29
The Indiana Historical Society is turning the History Center into a mad scientist laboratory where kids can discover the science and history behind potions, brews and goos! Kids will also get to dissect brains, make a creepy concoction, brew their own ghosts, explore the whys of glow-in-the-dark with slime and learn what's behind all those monster stories. Trick-or-treating through the Indiana Experience is included too!
More information: indianahistory.org
Mass Ave. Monster Mash – Oct. 30
The night before Halloween, businesses up and down Mass Ave. will be handing out treats, many of which will be non-candy, to costumed kids! This is a great event for kids with food allergies!
More information: facebook.com
Garfield Conservatory – Oct. 31
Kids between the ages of 2 and 6 are invited to don their Halloween costume and come learn about some creepy and not-so-creepy creatures. In addition to meeting live critters, kids and their accompanying adult will create a crafted item! Registration is required. (Fee includes Conservatory admission for child and accompanying adult.)
More information: indyparks.org
---

About the Author
Kristie Smith
Kristie Smith is the founder and CEO of the Indy Homes Real Estate Team. She is a REALTOR, and is one of the most recognized and accomplished Indiana real estate agents. Ranked among Central Indiana's top 10 real estate teams, the Indy Homes Team specializes in relocating families moving to the Indy area, as well as Helping People on the Move locally in Indy.
---