Do you LOVE your friends?
Posted by Kristie Smith on Monday, August 18, 2014 at 1:49 PM
By Kristie Smith / August 18, 2014
Comment
People with rich social circles are said to live longer, have less stress in their lives, and be happier and more self-confident than individuals who try to fly through life solo. Is it any wonder then that you should be working to build strong friendships at every stage in your life?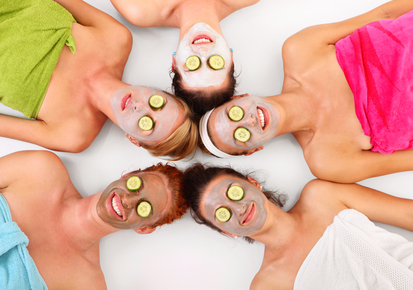 When it comes to friendships, quantity counts. (Evolutionary anthropologist Robin Dunbar suggests humans can juggle 150 stable social connections at a time, and roughly fifty of those relationships would be classified as good friends.) But it's not just the number of friends you have that matters. Turns out, you should heed the types of friends you have in your social circle as well.
Having a diverse, well-rounded group of friends provides you with a strong support system and a range of social interactions that will help you lead a happy and healthy life. For advice on what types of friendships you should cultivate, read on.
The childhood buddy
The friends you made while you were in grade school are worth keeping around. Longtime pals share memories that span decades and help you remember the good old days, which research suggests will boost your overall happiness in life.
Fortunately, you don't have to let geographic boundaries stop you from reaping the rewards of this special relationship. If you no longer live near your childhood friends, just be sure to give them a call or send them an e-mail every few weeks to make certain you stay involved and interested in each other's lives as the years go by.
The caretaker
You know the old saying, "Mom knows best"? Well, so does the caretaker in your group of friends. Let them dote on you because that's what a caretaker does best, and doing so benefits them just as much as it does you. Plus, you'll need him or her around to offer advice, bring soup over when you're sick, and nurture you through the bad days, bad decisions, and bad breakups.
The mentor
Think of this friend as your personal life coach. A friend who also serves as a mentor will pass on his or her wisdom and offer you the pep talks you need. (For this reason, they'll likely be older and more seasoned in the game of life than you are.) Utilize this relationship to get feedback and support when you are going through big life changes and in need of thoughtful and candid advice.
The work pal
When you spend forty hours (or more) at work each week, it makes sense to seek some companionship during your office hours. Avoid getting buddy-buddy with your boss so there isn't a conflict of interest when it is time for performance reviews and pay raises. Instead, seek out a colleague who is in a similar position as you and who shares some common interests as well. Whether you build your budding friendship by talking about sports and sitcoms or by chatting about life at the office, a workplace pal will make breaks, cafeteria lunches, and office parties much more enjoyable.
The activity partner
Whether you're into racquetball, throwing pottery, or thrifting at antique malls, having a friend to share your hobbies with makes those activities more fun and more meaningful. If you have trouble finding someone who shares your interests, consider joining a group dedicated to your particular hobby. Who knows? Your new best friend might be the person doing downward dog on the yoga mat right next to yours.
The accountability partner
Live gets hard, and there is no better way to navigate those choppy waves than with a great friend. A friend who offers accountability and discipline can help you achieve your goals, grow closer to God, or create possibilities for yourself far beyond what might be possible alone. An accountability partner can hold you to the high standards you have created, and can grow into a mutually beneficial experience.
Tips for meeting new friends
Looking to expand your social group? Try these surefire tips for meeting new people, and you'll be on your way.
Say yes. Skip the excuses and just say yes when someone invites you to an event, a gathering, or an activity–even if it isn't something you'd usually attend. You never know when or where you'll meet someone who'd make the perfect addition to your circle of friends.
Get out. It's hard to meet friends when you are sitting at home binge watching episodes of Homeland. Give yourself the opportunity to meet new people by taking an art class, volunteering at a local charity, or joining a gym.
Spread the word. Let your friends and family know you're in the market for new friends–especially if you've moved to a new city and need help making connections and setting up "blind dates" with potential friends. A line I love to use with people is "Who do you know that I should know?".
---

About the Author
Kristie Smith
Kristie Smith is the founder and CEO of the Indy Homes Real Estate Team. She is a REALTOR, and is one of the most recognized and accomplished Indiana real estate agents. Ranked among Central Indiana's top 10 real estate teams, the Indy Homes Team specializes in relocating families moving to the Indy area, as well as Helping People on the Move locally in Indy.
---