Make your Indianapolis home an indoor veggie garden year-round
Posted by Kristie Smith on Sunday, March 9, 2014 at 6:59 PM
By Kristie Smith / March 9, 2014
Comment
If you have a hankering for homegrown food during frosty Indianapolis winters, an indoor crop of vegetables might just do the trick. A surprising number of foods easily grow in your own Indianapolis home. Here are a few options to get you started:
Tomatoes
Imagine the pleasure of fresh, homegrown tomatoes in winter. Cherry, grape, or pear tomatoes are ideal. They will give you an on-going harvest throughout the cold weather.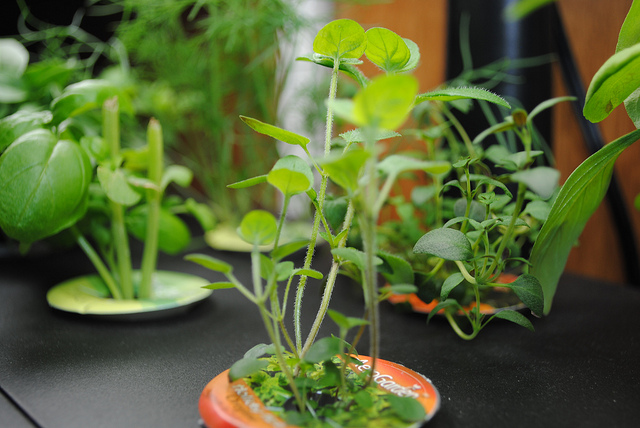 Start your indoor winter crop of tomatoes from seeds. To jump-start the growing process, you can spawn indoor plants from cuttings of you outdoor plants. It's easy. In late summer, cut a branch from an outdoor plant and trim it into several six-inch pieces, each with at least two sets of leaves. Remove the other foliage, leaving only the pair at the top of each cutting. Place the cuttings in a jar of water and leave on a sunny windowsill; the plants will root within days. Pot these up in containers that will allow for a root system, and grow them in a sunny outdoor spot until frost threatens; then bring them indoors. Tomatoes are sun lovers, so position them with great sun exposure. Tomato flowers are self-pollinating, but a gentle tap of the leaves will simulate the wind and bees rustling the flowers.
Image: Some rights reserved by Lizard10979 on Flickr-Creative Commons
Garlic
One head of garlic can turn it into many new plants—and it's easy! Break apart a store-bought (or homegrown) head of garlic, and plant each clove root side down, pointed-end up, in a container that's at least eight inches deep. We recommend organic heads that haven't been treated. The cloves should be buried one inch deep from the top tip, and at least four inches from the container side and other cloves. Place the container where it will get a minimum of eight hours of sun per day, and water as needed to keep the potting mixture moist but not wet. Snip off the tiny flowers as they grow so energy goes into producing the new garlic head. Eight to ten months later, when the leaves begin to turn brown, rejoice. Your crop of garlic heads is ready to harvest. Also, garlic is a natural pest repellent so try placing them next to your indoor tomatoes to ward off mites and aphids.
Scallions (spring onions)
Spring onions are easy and fun to grow indoors, and they don't require a lot of space. When you're trimming your store-bought scallions, save the cut off root and plant it in a container. Spacing is not an issue so jam as many roots into the pot as will fit, even allowing them to touch. The roots will sprout within days, and you can enjoy the oniony greenery throughout the winter.
More indoor vegetable plants to try: mustard greens, avocados, Eureka lemons, bean sprouts, rosemary, basil and watercress.
Growing food is an activity that gives back. Plant indoors in the Indianapolis fall and you can enjoy the fruits—and vegetables—of your labors all winter long.
Have any indoor veggie tips to share?
---

About the Author
Kristie Smith
Kristie Smith is the founder and CEO of the Indy Homes Real Estate Team. She is a REALTOR, and is one of the most recognized and accomplished Indiana real estate agents. Ranked among Central Indiana's top 10 real estate teams, the Indy Homes Team specializes in relocating families moving to the Indy area, as well as Helping People on the Move locally in Indy.
---