Hiring movers
Posted by Kristie Smith on Wednesday, July 22, 2015 at 6:29 PM
By Kristie Smith / July 22, 2015
5 Comments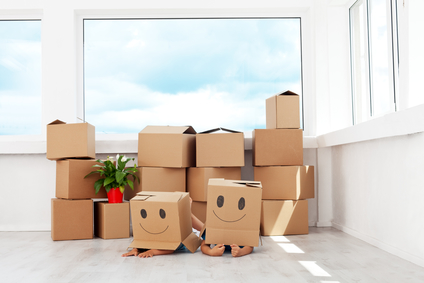 Congrats; you're moving! And, since you are a grown-up making your next move, you can't just borrow your friend's pickup truck for your bed and dresser, throw the rest of your stuff in the trunk of your car and be done. Chances are, you have more stuff now than ever before in your life. The best option, this time around, is definitely to hire professional movers.
Using moving companies can be a disaster. I have a friend that moved from Indiana to Arizona, and she received a dreadful call a few days after her goods were packed — to tell her that her bed had gone missing…somewhere in NEW JERSEY! What type of wrong turn does a person have to make on a trip from Indiana to Arizona to end up in New Jersey?!?
We definitely don't want you to have that kind of moving story.
With a little bit of planning and vetting, using professional movers can be a pleasant and convenient experience. Here are some pointers to make life much easier (and keep your bed from ending up in New Jersey).
1. Find a reputable company. If you are moving in-town check with friends to see what moving companies they've used in the past. If moving to a new area check with coworkers or relatives, anyone that can give you an honest opinion. Also, check internet recommendations. The Better Business Bureau is a valuable free service. There are also pay sites that offer customer reviews for moving companies (we like Angie's List the best). Make sure you check out the Facebook pages of these businesses as well. If people are unhappy with a service they've received, they can't wait to spread it ALL OVER social media.
2. If possible, schedule an in-home estimate before you move. For our last two moves, the company we used came out to our house…looked at our stuff and gave a free estimate on the spot. The estimate was based on the total hours it would take to move our goods. The day of the move the price could not exceed the quoted price, however, could end up being less expensive if the movers spent less time than estimated. I liked the fact that there was a maximum we could be charged on the day of the move.
3. Sure each moving company will tell you all your stuff is insured, but what exactly does that mean? It means all your stuff is insured only IF they do the packing. If they break something they packed, you get $.50 per pound, which means your $1000 flatscreen TV that tumbles down a flight of stairs on its way to your man cave will net you a total value of $25. Just enough money to buy yourself a 19″ tube TV from Goodwill. If the moving company does offer additional insurance (for replacement cost of broken items), definitely consider getting it. For our most recent move we paid extra for the insurance just for the peace of mind of them packing and moving our large glass top patio table, our Big Green Egg, and our master bedroom furniture.
4. When moving day arrives, be a good host. With professional movers one thing is certain, they are going to be working their tails off for you, and they are likely going to be there all day. Make an extra pot of coffee in the morning, offer the guys Gatorade after a couple of hours, and consider a substantial tip…of you feel it is warranted.
5. To make moving day smoother, make sure everything has been labeled in advance. It is important to label the contents of the boxes, but equally as important to label where you want things to go in the new house. The most recent house we moved into had three upstairs bedrooms. While packing, I labeled the boxes- Bedroom 1, 2 or 3, then when I got to the house on the day of the move, I taped the corresponding room number to each bedroom.
6. Be the traffic cop on the day of the move. The most efficient thing the homeowner can do the day of the move is not to help move boxes, but to tell the guys where the boxes go. Playing traffic cop will save you from having to move things around later, and save the movers time, which will ultimately save you money.
There you have it. A good moving company can help eliminate the stress of moving day, and your back will thank you when it's all said and done.
Happy Moving!
-Pete
---

About the Author
Pete Gilbert
Pete is a former teacher, turned stay-at-home dad of kids ages 3, 5, and 8. When not packing lunches and shuttling kids all over town he writes a blog titled, "A Dad Influence" for IndysChild.com.
---