How one family found a nanny for their Carmel home
Posted by Kristie Smith on Monday, April 7, 2014 at 3:59 PM
By Kristie Smith / April 7, 2014
Comment
We recently posted some tips on how to find a nanny in Indianapolis. After talking to some families, the Indy Homes Team wanted share one family's experience.
"What's right for one child may be different for the third."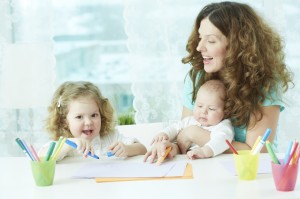 When the third child arrived, Jeff and Lee Altenburg of Carmel knew their childcare needs were greatly changing. Both work full-time—Jeff at a local hospital research lab and Lee at home for a global consulting firm. The two older children were already of elementary school age with a growing list of extracurricular activities. Both the older children attended a daycare center and pre-school, but the family determined that a nanny would be the best option for the third that was born prematurely. They needed help and found Home Staffing Solutions.
"We didn't feel comfortable doing all the background work ourselves," Lee said. "We wanted options to come pre-checked." Home Staffing Solutions provided three options based on the family's profile and requirements, provided interview guidelines, prepped Lee and Jeff on each candidate's background and made the placement and hiring process as easy as possible.

The Altenburgs determined that they needed more of a house manager than just a nanny, who could help with grocery shopping, cooking and laundry. They wanted all the time they had with the growing family to be quality time. The Altenburgs discovered that the nanny was a great convenience and budget balancer for the two older children as well. The children can get off the bus at home without the additional expense of after-school care.
"Our nanny has been a major calming factor in our home," Lee said. "But what works for our family may not work for another family. And what works for us today, may not work for our family in two years. There is no one solution."
Lee encourages families to be flexible with the ever-changing needs of a family. The biggest driver for their selection was finding someone they could trust and evaluating all costs—day care, after-school care and total childcare costs.
Have you hired a nanny for your family? We'd love to hear your experience in the comments.
---

About the Author
Kristie Smith
Kristie Smith is the founder and CEO of the Indy Homes Real Estate Team. She is a REALTOR, and is one of the most recognized and accomplished Indiana real estate agents. Ranked among Central Indiana's top 10 real estate teams, the Indy Homes Team specializes in relocating families moving to the Indy area, as well as Helping People on the Move locally in Indy.
---