How to find a nanny in Indianapolis
Posted by Kristie Smith on Friday, April 4, 2014 at 4:11 PM
By Kristie Smith / April 4, 2014
Comment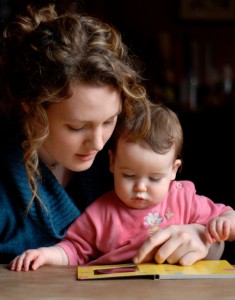 One of the top questions our Indy Homes Team is asked by families relocating to Indianapolis is how to find quality childcare—in-home or a daycare center. Each family's childcare needs varies greatly from another family's. For those seeking an Indianapolis nanny, we always encourage Indianapolis relocation buyers to talk to other families that have hired a nanny.
How to start the search for a nanny in Indianapolis
Write a family resume and profile. Determine how you will describe your family to prospective nannies in Indianapolis. Craft a profile of each family member that illustrates individual personalities, favorite activities, preferences, loves, and dislikes. Write out your family's needs and wants and describe in detail special needs such as dietary preferences and restrictions, medical needs, or learning tools. What's an average day look like in your home? Include that in that profile. Some nannies will not work with a family where one of the family members works from home. It's important to be truthful and realistic when describing your household. You want the nanny to be on board with your real situation.
Build a list of required criteria for a nanny. This is the "job description." Availability, live-in, driving record, light housework, heavy cleaning, set hours, flexibility, CPR-certified, grocery shopping, cooking, experience with children, have children, don't have children are just a few criteria one can use to draw up needs from a nanny. Pretend you have a magic wand and draw up the perfect nanny. This list will be your benchmark when comparing nanny candidates. Another important factor is your budget for a nanny.

Determine which resources to use for locating prospective nannies. Many nanny placement services in Indianapolis can guide the process for selection. Sittercity and Care.com are two popular online resources that allow families to post nanny positions and to review nannies that have posted their resumes and profiles and have had a background check. These sites provide online tools for interviewing, hiring, nanny taxes and more. A local Central Indiana nanny placement resource, Home Staffing Solutions, does all the legwork for families and facilitates the entire hiring process every step of the way.
Prepare interview questions. Using the criteria and family profile you can generate questions that will quickly eliminate candidates. Your must-haves will help narrow your options.
Introduce the entire family. With a list of top two or three nanny candidates, set up a time to introduce the entire family. Once you have used your must-have criteria, the best fit will ultimately come down to the interaction you see with the finalists. You'll be able to evaluate your children's reactions and the nannies' response to your children. Based on your intuition and objective criteria, you will know which nanny is best for your family.
Have you selected a nanny in Indianapolis? What tips do you have to share with other families?
---

About the Author
Kristie Smith
Kristie Smith is the founder and CEO of the Indy Homes Real Estate Team. She is a REALTOR, and is one of the most recognized and accomplished Indiana real estate agents. Ranked among Central Indiana's top 10 real estate teams, the Indy Homes Team specializes in relocating families moving to the Indy area, as well as Helping People on the Move locally in Indy.
---