How to keep your 4-legged friends active this winter
Posted by Kristie Smith on Sunday, January 13, 2019 at 6:16 PM
By Kristie Smith / January 13, 2019
1 Comment
Whoa! Indianapolis really got walloped this weekend—more than seven inches of snow! Our bet is that your dog is loving it—we've seen plenty of cute online videos of doggos enjoying the fresh snowfall. We humans, however, are bound to get tired of the cold and white stuff as winter drags on. Hibernation, anyone? Your dog needs to stay active though, even as you fatigue of the weather. Here are some tips to keep your canine companions healthy and free of cabin fever this winter with little exertion on your part!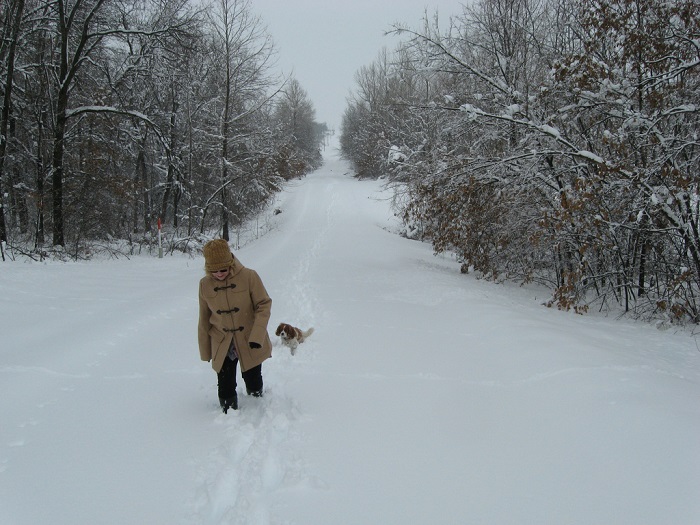 Some rights reserved by chaser48 on Flickr
Before venturing out into the winter elements with your dogs, it's important to care for their safety first. Broad Ripple Animal Clinic highlighted some tips on its blog for keeping your furry friends safe during the cold. Ice, salt and freezing temps pose threats to their health and need to be taken seriously. But if the temperatures are right and the environment safe, Indianapolis offers a winter wonderland of exploration and fun for your dogs. Keeping your dog active in the winter can help keep you active, too. Here are some ways to keep your four-legged friends active this winter.
Doggie daycare
For those dogs that don't mind a car ride and play well with other dogs, doggie daycare offers a great way to kick the winter inactivity. According to Bradley Phifer, Indianapolis animal behaviorist and dog trainer, not all dogs are meant for daycare. Fortunately, most daycare centers like Indy Hound in downtown Indy and Zionsville Country Kennel invite your dog for a trial day to see if he or she is a good daycare candidate. Learn more about Indianapolis doggie daycares >>
Dog walkers
The sun sets before most of us get home from work during the winter. The dark, cold nights aren't the most inviting for a long walk with the dog. Dog walkers to the rescue! Professional Indianapolis dog walkers will come to your home to take your four-legged friend for a midday jaunt and get those legs stretching. Indy Dog Walkers is one such band of dog-loving professionals who serves Indianapolis, Carmel, Westfield, and Zionsville homes. You might want to check out an app like Wag, too, for on-demand walks. (It's sort of the Uber of dog walking.)
Bark parks
Dog parks stay open all year round and invite your well-behaved dog to frolic leash-free with other dogs. Just about every corner of Indianapolis and Indy suburbs features a dog park. From Broad Ripple to Eagle Creek to Fishers and Fort Harrison, a bark park is a short drive away from any Indianapolis-area home. (Did you hear about the new indoor dog park that just opened in Castleton? Perfect for cold weather!) Check out our list of dog parks >>
Choose your own canine adventure
The Iditarod, the great dog sled race is upon us. Maybe you could hitch your pup to a sled and mush? Sound unlikely? How about snowshoeing and trail hikes through the beautiful Eagle Creek Park? Just remember a leash is required for dogs within the park.
After all, a tired dog is a good dog!
What ways have you kept your dog active this winter? Have any reviews of the types of services mentioned above?
---

About the Author
Kristie Smith
Kristie Smith is the founder and CEO of the Indy Homes Real Estate Team. She is a REALTOR, and is one of the most recognized and accomplished Indiana real estate agents. Ranked among Central Indiana's top 10 real estate teams, the Indy Homes Team specializes in relocating families moving to the Indy area, as well as Helping People on the Move locally in Indy.
---