Tips to Make your Move Easier for your Dog
Posted by Kristie Smith on Friday, August 5, 2022 at 3:32 PM
By Kristie Smith / August 5, 2022
2 Comments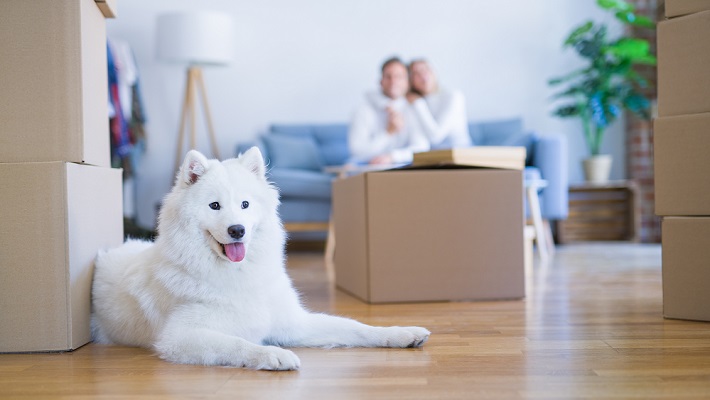 You found the home of your dreams! You're ready to move into the new phase of your life—but what about your pup? As dog lovers, we at Indy Homes want to help you ensure a smooth transition for your furry friend.
Dogs love routine (just like you)
As you look forward to your move date, keep this dog psychology tidbit in mind. Dogs, like humans, live in a world of routine. They expect to be fed at a certain time, walked at a certain time, and sleeping next to the bed (or on your pillow) at a certain time. The difference is that dogs don't choose their routine. They depend on you to tell them the when, the where, the why. And although dogs can't directly say it, they stress out when confronted by big changes.
It's up to you to set a routine for your dog despite the craziness of your move. Here are some tips.
1. Be a good role model
Dogs can feel what you're feeling. Whether its their primal background or their high level of reliance on humans for food and shelter, dogs sense your emotion. I'm sure you've had your dog come up to you and lick your face when crying, or jump up and celebrate, tail wagging, when you've expressed your excitement over a Colts win. Dogs mimic your emotion, which means that during the move, being as calm and supportive as possible will increase the chances of your dog behaving and feeling okay.
2. Use positive reinforcement
"No" is a word we use hundreds of times per day when conversing with people. Identifying a word or sound that means "no" with your dog means that they won't be confused or anxious when hearing you yell "No!" at the screen during an exciting episode of "The Bachelorette," during an intense Pacers game, or when a mover is packing your fine china without any bubble wrap--YIKES! Sometimes the word "no" even reinforces bad behavior. If your dog is seeking attention, you yelling "no" might give him the attention he wants.
Remember to reinforce good behavior with your dog to ensure a smooth transition to a new home, especially since riskier behavior patterns will be more likely to occur with the added stress of the changing surroundings. If these behaviors persist, check out our recommendations for Indianapolis dog training locations.

Saying "no" consistently when your dog is exploring their new home might cause your pup to shut down altogether (not engaging at all to avoid getting yelled at), which will only increase your dog's stress. Think of a new word or sound meaning "no," or consider only reinforcing good behaviors to make your dog as content as possible.
3. Take it slow...
According to VCA Animal Hospital, dogs sometimes chew and urinate while exploring. If you want them to avoid these behaviors, "accompany your dog around your house while he explores (to) provide the opportunity to encourage and reinforce desirable behaviors while interrupting and deterring undesirable ones." Keep close by while they explore!

Move out a few boxes at a time—don't wait until the day of the move when there are a dozen movers coming in and out for your dog to find out his home is being transferred. According to the ASPCA, "start by allowing them to adjust to ONE room—their "home base"—which should include their favorite toys, treats, water and food bowls..."
Take your dog to the new home a few times before the big move so that he can check out the new digs, and get familiar with the new smells. Perhaps even move their dog bed the day before so they can start feeling like it's home.
Tips for the day of the move
Drop your doggie off with a neighbor, a friend, or a doggie daycare center to ensure they receive all the attention they need.
Check our recommendations for doggie daycare centers located in Carmel and Zionsville. All of these locations offer dog-play, most offer dog spa services, and all are highly rated daycare centers where you can trust your pup will receive top-notch care.
Moving can be the most stressful part of a human's life. Follow our tips to ensure the move isn't the most stressful part of your canine friend's life, too!
---

About the Author
Kristie Smith
Kristie Smith is the founder and CEO of the Indy Homes Real Estate Team. She is a REALTOR, and is one of the most recognized and accomplished Indiana real estate agents. Ranked among Central Indiana's top 10 real estate teams, the Indy Homes Team specializes in relocating families moving to the Indy area, as well as Helping People on the Move locally in Indy.
---