How's a brand-new home sound to you?
Posted by Kristie Smith on Thursday, January 30, 2014 at 6:52 PM
By Kristie Smith / January 30, 2014
1 Comment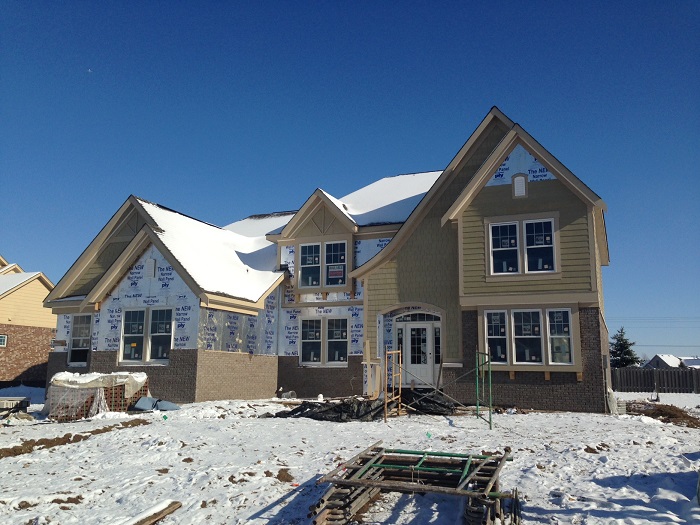 New home in Fishers under construction
Indianapolis new home construction plays an integral part of the Indy real estate landscape. For some buyers, new is the only way to go. For others, the low inventory of Indianapolis homes leaves no other option.
According to the Builders Association of Greater Indianapolis (BAGI), 2013 new home building permits were up 19% over 2012. Steve Lains, BAGI CEO, said this increase indicates strength in the Central Indiana economy. Along with providing thousands of buyers a personalized dream home, builders generated over 15,000 local jobs in 2013.
The Indy Homes Team brings years of experience working with builders in and around Indianapolis and sold over a dozen new homes in 2013. We've often heard buyers ask if they need a REALTOR to purchase a new home or if builders will work with Indianapolis real estate agents. Simply answered: yes! Builders and real estate agents work in partnership for the good of the customer.
Over the years of selling new homes, the Indy Homes Team has developed strong relationships with area builders. We are a valued partner to many builders and equally value our builder partners. One such builder is this year's Indianapolis Home Show Centerpiece Home builder, Fischer Homes. We've spent time learning Fischer Homes' communities in Carmel, Zionsville, Fishers, Geist, McCordsville, Avon and Greenwood. We know the floor plans and we know the process. We help our buyers narrow their search based on needs and wish lists.
Another benefit real estate agents bring to buyers and builders in the new home process is our ability to get buyers' existing homes sold. Selling the current home is a crucial step in moving into a brand new home. Builders rely on experienced real estate agents to provide a comparative market analysis on buyers' home to gauge the likelihood of a sale. Some Indy area builders offer House-to-Sell Contingencies to help buyers secure a home and a lot they want before their home is sold.
Our team has vetted Indianapolis builders and can help to set expectations of the building process—a process that can intimidate some buyers. Based on our research and experience, the Indy Homes Team has developed a list of preferred builders. We can guide you through the joys and pitfalls of a building a new home in Indianapolis.
We'd love to hear about your building experience. What made you decide to buy new?
---

About the Author
Kristie Smith
Kristie Smith is the founder and CEO of the Indy Homes Real Estate Team. She is a REALTOR, and is one of the most recognized and accomplished Indiana real estate agents. Ranked among Central Indiana's top 10 real estate teams, the Indy Homes Team specializes in relocating families moving to the Indy area, as well as Helping People on the Move locally in Indy.
---