Indianapolis Colts 2013 football season
Posted by Kristie Smith on Wednesday, August 7, 2013 at 5:16 PM
By Kristie Smith / August 7, 2013
1 Comment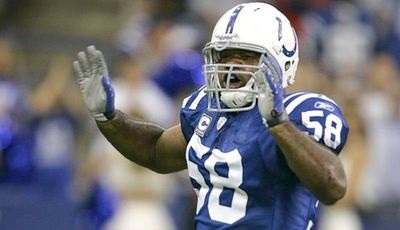 Football season is just around the corner and our Indianapolis Colts are back! Colts fans are excited for this upcoming season. With new players and new play strategy, the Colts are planning to go all-the-way for the championship trophy in February!
The Colts are not taking anything for chance; they have started training camp at Anderson University which has been their training camp location for four years running. The training started July 28, and fans galore have flocked to Anderson for a glimpse at the new team and a chance to support Indiana's football team!
On August 6, prior to the start of the "special night practice," the Hunter Smith Band took the opportunity to perform (featuring, of course, the eponymous alumunus).
And for those who have missed the myriad of commercials, this year's 2013 NFL Stadium Security Policy is strict. The Colts are limiting the size and type of bags that are allowed into the Lucas Oil Stadium. Bags that are permitted are those that are made out of clear plastic, vinyl or PVC and do not exceed 12" x 6" x 12", including one-gallon clear plastic freezer bags. Ladies, small clutch bags are fine as long as it is only the size of your hand, with or without a handle or strap. Medically necessary items will be an exception but will be inspected at the entry gate.
The Indianapolis Colts strategy for the 2013-2014 season is to increase their physical strength at the defensive line. Rigorous training is underway to achieve better physical strength as well as finding better game plays for them to conquer this football season!
As with every season, this year has been full of new and returning players. Here is our guide for Indy fans to become acquainted with the 2013 Colts players and show our support for our team!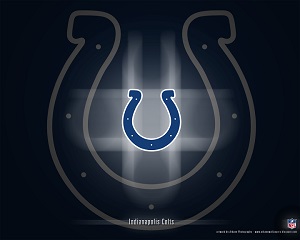 We welcome the drafted players for this year! Bjoern Werner who was picked in the first round. He is from Florida State College and playing Defensive End. Hugh Thornton playing Guard was drafted from Illinois College. Khaled Holmes from USC drafted round 4 and playing as Center, Montori Hughes playing as Defensive Tackle from Tennesee-Martin and drafted in round 5, John Boyett from Oregon College will be playing as Safety and drafted in round 6, Kerwynn Williams as Running Back and Justice Cunningham as Tight End both were drafted in round 7. The Colts traded their second-round selection (No. 54 overall) to the Miami Dolphins in exchange for corner back Vontae Davis. They also traded their original fifth-round selection (No. 157 overall) along with a 2012 fourth-round selection to the San Francisco 49ers in exchange for the 49ers' 2012 third-round selection. The Colts acquired a new fifth-round selection (No. 139 overall) in a trade that sent its 2014 fourth-round selection to the Cleveland Browns.
We know that football is a very intense sport and injuries are just a part of the game. Here are some of the casualties during training camp. Joe Reitz was the only player who came away with an injury from his practice. Coach Pagano said it was just a stinger and that Reitz would be back soon. Through one week of practice, the Colts have only had to put two players on injured reserve (IR) (Brandon McKinney and Scott Lutrus). That's it as far as long-term injuries go. Martin Tevaseu returned to practice today after sitting out the last few days with a right shoulder issue. Hugh Thornton is out of his boot and is expected back next week. Khaled Holmes has taken over boot duties instead, but he should at least be ready to go in a few weeks. LaVon Brazill, Mario Harvey, Daniel Adongo, and Sergio Brown are all sitting out with minor injuries. The Colts secondary also took a hit this week, as cornerback Greg Toler went down with a concussion in practice. Toler has gone through concussion tests, and the issue has been listed as minor.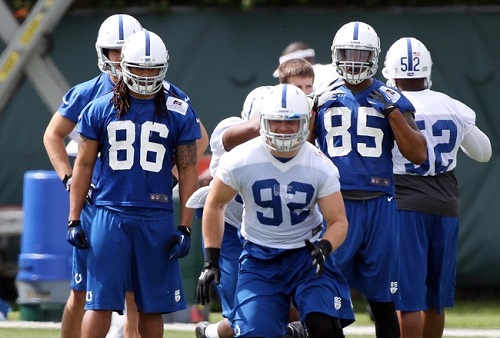 Now to what is most important, how are the players doing during training camp? Justice Cunningham sealed it. This was officially "Tight End Week" at the Colts training camp. All of them, including Dominique Jones, looked good in their own ways. Bjoern Werner finished the week off well. He has consistently looked good in individual drills, beating Justin Anderson over and over with ease. Jerry Hughes never had this many positive signs in his first training camp. Reggie Wayne can still beat the defense deep. He's done it at least two or three times throughout the week. Andrew Luck went 23 of 29 with three touchdowns and no interceptions. George Bremer had him down with 14 straight completions at one point. He's going to be a great quarterback this year and improve in so many different ways now that his weapons and his offensive line have gotten better as well.
And let's not forget about the upcoming game we are all waiting for! Colts vs. Broncos game this coming October 20, 2013 at Lucas Oil Stadium! The rivalry between Colts and Broncos started a while back and ever since 2001, the Colts have been beating Broncos team 8 out of the last 10 meetings and won four straight (five if you include the 2004 playoff meeting). Having said that, we must also acknowledge that it was Peyton Manning (former Colts Quarterback) who led the Colts to dominate against the Broncos. The question now is, can Manning lead Broncos to dominate Indianapolis in the same way? We will soon find out! Do you think our new players will help us defeat the Broncos? Are they going for the right strategy by improving their defense?
Do you think Manning will be enough to defeat the Colts? Get ready for an intense season indeed!
---

About the Author
Kristie Smith
Kristie Smith is the founder and CEO of the Indy Homes Real Estate Team. She is a REALTOR, and is one of the most recognized and accomplished Indiana real estate agents. Ranked among Central Indiana's top 10 real estate teams, the Indy Homes Team specializes in relocating families moving to the Indy area, as well as Helping People on the Move locally in Indy.
---