Home trend: Craftsman-style houses
Posted by Kristie Smith on Friday, May 25, 2018 at 1:02 PM
By Kristie Smith / May 25, 2018
Comment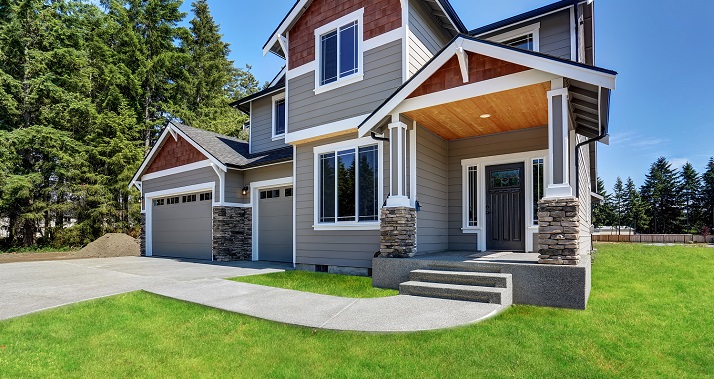 A new construction Craftsman-style home
Craftsman-style homes are hot! So hot, in fact, that a recent study by RealEstate.com showed that entry-level homes with the word "craftsman" in the listing description fetched a 34-percent premium over comparable homes. Whoa!
When you hear "Craftsman," you may automatically think of the low-slung bungalows found in older neighborhoods like Meridian-Kessler and Broad Ripple. But this classic style has been reinterpreted and reintroduced by today's builders. As this 2017 Indianapolis Monthly feature shows, Craftsman-style homes around Indy vary widely in size, age, price and construction materials.
What makes a home Craftsman-style?
Original Craftsman homes were first built in California around the turn of the 20th century as a part of the Arts and Crafts movement, a reaction to the Industrial Revolution and its mechanized approach to the production of goods. Arts and Crafts supporters wanted to see a return to hand-crafting, artisanship and a simplified way of life. Architects applied the movement to a new style of home that featured clean lines, open living spaces for informal living, simple ornamentation and natural building materials, such as wood siding, brick, stucco, cobblestone and wood shingles. And the Craftsman, a distinctly American architectural style, was born.
With the advent of World War I, the Arts and Crafts movement waned and eventually an interest in a modernist style took its place. However, in the 1990s, the style reemerged in the Pacific Northwest, as Americans became interested in clean and healthy living. They found that the Craftsman aesthetic, with its simplicity and natural elements, fit with this way of life. The trend spread across the U.S. and has been going strong ever since.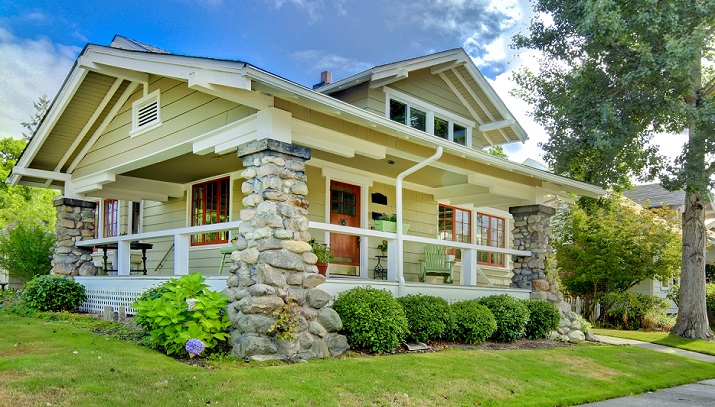 A classic Craftsman bungalow
Typical craftsman-style homes feature low-pitched roofs with wide eaves and exposed rafter beams. A wide porch supported by tapered wood or stone columns and a partially paned door welcome visitors. Other details that add to the curb appeal include large, single dormers, multi-pane windows, and stone accents. Craftsman homes are often painted earthy colors, with a contrasting color used to highlight architectural features.
Where can I find Craftsman homes in Indianapolis?
As mentioned above, original Craftsman can be found in older neighborhoods. Scout these areas in Indianapolis for vintage Craftsman that retain charming original details while boasting updated amenities for today's lifestyle:
If you prefer new construction homes, check newer neighborhoods, such as these, for today's riff on the Craftsman:
Scroll down for a list of Craftsman-style homes currently for sale in the Indianapolis area. Our property search tool also lets you search by a wide variety of architectural styles. Plus, you can save your favorite homes to your account and have listings emailed to you when they come on the market. Give it a try!
Happy hunting! If you need help with your home search, we would love to assist you! Call us at (317) 815-4450.
---

About the Author
Kristie Smith
Kristie Smith is the founder and CEO of the Indy Homes Real Estate Team. She is a REALTOR, and is one of the most recognized and accomplished Indiana real estate agents. Ranked among Central Indiana's top 10 real estate teams, the Indy Homes Team specializes in relocating families moving to the Indy area, as well as Helping People on the Move locally in Indy.
---
Craftsman-Style Homes for Sale
No Matching Listings
Try a new search, or click below to get notified when matching listings become available.