Find Indianapolis dance programs for kids
Posted by Kristie Smith on Tuesday, December 19, 2017 at 1:11 PM
By Kristie Smith / December 19, 2017
Comment
Whether your child dreams of being the next Misty Copeland or just has extra energy to burn, dance offers numerous benefits that will be advantageous to him or her throughout their lifetime—including better overall physical health, social and communication skills, discipline, focus and confidence.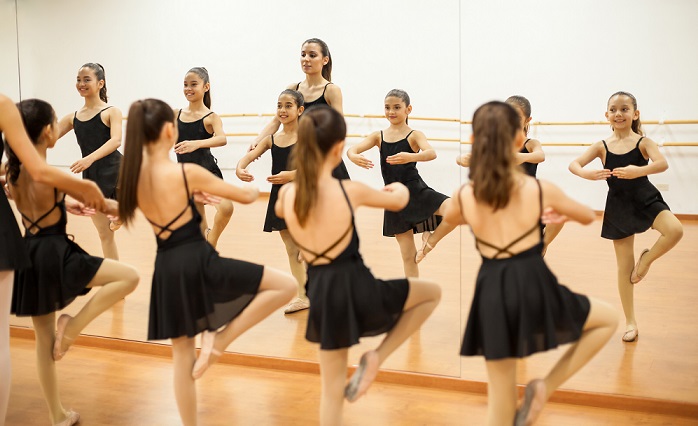 Indianapolis' northside and north suburbs offer numerous dance studios and programs where your child can find his or her niche, whether he or she is looking for a fun activity or something more competitive. (BONUS for you: Some studios even have classes for adults, including dance-oriented fitness classes and adult tap. Doesn't that sound FUN?)
What should I look for in a program for my child?
Before choosing a program, Traci Broman, the owner of Zionsville's Village Dance Studio, suggests parents review the biographies of instructors online or talk to them in person. Look for education level and experience. If your child wants to pursue advanced techniques, like pointe work in ballet, make sure the instructor has experience in that area. Parents can also evaluate fit by having their child try a class—many studios offer a first class for free. In addition to seeing how your child and the instructor interact, this ensures kids are placed at the appropriate level, she said.
How do competitive teams differ from recreational classes?
Like competition cheerleading, competition dance teams require a higher level of commitment than simply taking classes—financially and timewise—as well as a great deal of devotion to dance. Some programs may prepare solos, duets and trios for competition as well. Dancers are asked to join teams through evaluation and/or audition. Talk to instructors to ascertain time, financial, and travel commitment and to learn about the competitions dancers will be participating in during the season.
Find a dance program in Indianapolis' north suburbs
Indianapolis' northside and northern suburbs offer a variety of dance studios and programs for both boys and girls interested in dance. These programs come highly recommended by the moms of the Z'ville Moms Facebook group.
Expressenz Dance Center
9581 Valparaiso Court, Indianapolis, IN 46268 | (317) 879-0069
Known for: Nationally recognized performance company.
Dance classes offered (for preschoolers through teens): Ballet, Tap, Jazz, Hip Hop, Conditioning. Technique intensive level classes are also offered (must audition or be invited).
Competition teams: The NZ performing company is a competitive dance company designed for the serious dancer who is highly interested in the performing arts. All dancers are required to participate in all regional and national competitions and conventions.
For pre-professionals: Ballet Expressenz is a ballet company for dancers ages 5-18 years old. The purpose of the company is to develop the technical and artistic skills required for dancers preparing for college or a career in the performing arts.
Also offered: Adult dance-oriented fitness classes and adult tap.
More information: Go to www.expressenz.com or call (317) 879-0069.
Indy Stars
8070 Georgetown Rd., Indianapolis, IN 46268 | (317) 986-5707
Known for: Supporting athletes of all abilities. Nonprofit arm makes gymnastics available to athletes with special needs.
Dance classes offered: Ballet (ages 3-8), jazz (ages 6-13), hip hop (ages 7-13), musical theatre.
Competition team: Team members will be required to learn 1-3 routines and will compete at local and national levels. The competition season begins January 2018 and continues through approximately July 2018. All competitions will be held within the state of Indiana and may require some travel time, but most will be held in the Indianapolis area. Dancers must compete in all competitions the instructor decides to register them for.
Also offered: Gymnastics, adaptive gymnastics, Special Olympics gymnastic team, cheer.
For more information: Go to www.indystars.net/dance or call (317) 986-5707.
Interactive Academy
3795 South U.S. 421, Zionsville, IN 46077 | (317) 733-3000
Known for: Boasts the largest world-class gymnasium in Indiana and a wide variety of physical activities for kids and adults of all ages.
Dance classes offered: Toddlers and Tutus class for ages 20 months to 3 years. Dance/gymnastics combo classes for ages 3 and up. Hip pop (teaches hip hop, jazz fundamentals and gymnastics basics) for ages 5-7. Ballet, tap, jazz and hip hop classes for ages 6 and up. Lyrical classes for ages 9 and up.
Competition: Year-round teams for dancers ages 6 and up who love all styles of dance. Teams attend up to three competitions in the spring, as well as conventions and master classes throughout the rest of the year. Teams often perform at community events as well. Auditions are held in the spring. A petite team for ages 5-6 allows dancers to further develop their dance technique and learn fun routines that will be performed at community events throughout the year, including summer recital and one competition in the spring.
Also offered: Baton twirling, gymnastics, cheer. Homeschool classes. Holiday camps.
For more information: Go to www.interactiveacademy.com or call (317) 733-3000.
Performers Edge Dance Theatre
12955 Old Meridian, Suite 100, Carmel, IN 46032 | (317) 573-8085
Known for: Pre-professional program through the Carmel Ballet Theatre.
Dance classes offered: Preschool through advanced classes: Ballet, Tap, Jazz, Contemporary, Hip Hop.
Performance opportunities: Performing opportunities in musical theatre, ballet and competitive teams. An annual recital is also held.
Competition teams: A "prep" team allows students to try performing/competing with less of a financial and time commitment. Competitive "mini" and junior/senior teams give students the opportunity to compete in regional and national competitions. Auditions are held in the spring.
For pre-professionals: The Ballet Theatre of Carmel is a pre-professional dance company that prepares dancers for college and professional dance careers. BTC incorporates the American Ballet Theatre National Training Curriculum into its teaching. A day intensive program is open to home-schooled intermediate and advanced ballet students.
Also offered: Voice, Piano, Cello, Musical Theater, Acting. Adult tap.
More information: Go to www.performersedgedancetheatre.com or call (317) 573-8085.
Renovate
6600 S. Indianapolis Road, Whitestown, IN 46075 (Held at Traders Point Christian Academy and Traders Point Christian Church facilities) | (317) 769-4559
Known for: Quality instruction within a Christ-centered environment.
Dance classes offered: Ballet, Creative Movement, Hip-Hop, Jazz, Tap, Contemporary and Family Broadway Jazz.
Also offered: Adult tap.
Performance opportunities: No competition program. Each student has the option to perform at various performances and outreach opportunities throughout the year.
For more information: Go to renovatedance.com or call (317) 769-4559.
Village Dance Studio
5964 S. 700 E. Whitestown, IN 46075 | (317) 769-2223
Known for: Now in its 40th year, Village Dance Studio has served several generations of Zionsville kids. Started by Annette Pettigrew in Zionsville in 1977, the studio is now owned by daughter Traci Broman. The studio is also know for conservative costumes and music choices.
Dance classes offered: Creative Movement (ages 3-6), Beginning Ballet, Intermediate and Advanced Ballet, Pointe Technique, Hip Hop, Modern, Jazz and Tap, Musical Theater. No competition programs.
Performance opportunities: Village Dance Studio does a big recital every other year and a Showcase of Classes on the "off" years.
Also offered: Dance-oriented fitness classes for adults.
More information: Go to www.villagedancestudio.com or call (317) 769-2223.
Do you have a favorite studio not mentioned here? Share in the comments below!
---

About the Author
Kristie Smith
Kristie Smith is the founder and CEO of the Indy Homes Real Estate Team. She is a REALTOR, and is one of the most recognized and accomplished Indiana real estate agents. Ranked among Central Indiana's top 10 real estate teams, the Indy Homes Team specializes in relocating families moving to the Indy area, as well as Helping People on the Move locally in Indy.
---