Treat your dog: Indianapolis dog bakeries
Posted by Kristie Smith on Friday, May 18, 2018 at 11:07 AM
By Kristie Smith / May 18, 2018
Comment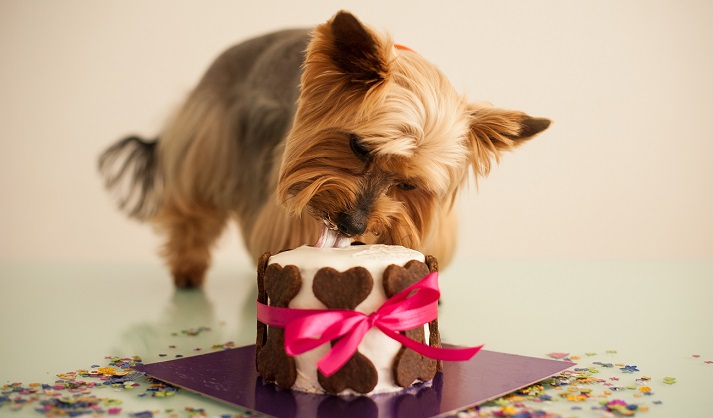 We remember when Three Dog Bakery popped up on Broad Ripple Avenue in 2000 and what a novelty it was at the time. Times have certainly changed! Today, pet owners spend more on their pets than ever (upwards of $86 billion every year with that figure expected to continue rising), and Three Dog Bakery now has four locations in the Indianapolis area. Several other local dog bakeries have also arrived on the Indy scene. One thing they all have in common—they offer healthy dog food and treats as an alternative to what you find at a big box store.
Dogs are family, after all, and their "parents" want what's best for them. All-natural food helps maintain dogs' health, and after several pet food scares in the U.S., knowing what is in their dogs' food and where it was sourced gives dog owners peace of mind.
Plus, who doesn't love spoiling their dog every once in a while—whether it's with a delicious treat, doggie popsicle or birthday cake!
We hope you find our list of Indianapolis dog bakeries helpful! We'd love to know which dog bakery is your (and your dog's) favorite! Tell us in the comments below.
BONUS: Scroll down for a list of dog-friendly homes for sale—that is, homes with full backyard fences.
Three Dog Bakery
Known as the "World's First Bakery for Dogs," Three Dog Bakery has been in business since 1989. The Indianapolis area boasts four locations—Broad Ripple, Downtown, Noblesville and Zionsville. Three Dog offers freshly baked premium treats and dog food, as well as high-end dog toys, training supplies, and doggie accessories. Three Dog Bakery donates up to one percent of annual net profits to its Three Dog Bakery Foundation, which offers financial assistance to not-for-profit dog and cat groups with a focus on rescuing pets in need of a loving home.
Four locations:
City Dogs Grocery
In addition to fresh-baked dog treats, City Dogs Grocery offers quality foods recommended by pet professionals, including vets, breeders and trainers, for both dogs and cats. If City Dogs don't have what you're looking for, they can have it in-store in two days. City Dogs also stocks doggie dental products, as well as shampoos, flea and tick controls, toys, coats, collars and more. A bit of fun trivia: City Dogs Grocery proudly sponsors Blue III (Trip), the Butler University mascot!
Two locations:
A Dog Bakery
Located just west of the Carmel Arts & Design District, the locally owned A Dog Bakery offers grain-free homemade dog treats and many locally sourced dog foods, as well as a variety of doggie accessories. The proprietors of A Dog Bakery are "owned by" four Shetland sheepdogs—Blitz, Rudy, Indee and Gryff. (See the adorable family on adogbakery.com.) Our listing agent Angelia loves to take her cockapoo Tilly here for a special treat!
Location:
Paw Street Bakery
This locally owned dog bakery is located in historic downtown Plainfield and features doggie frozen yogurt, birthday cakes, iced treats (the poop emojis are the cutest!), soft treats, assorted flavor dog biscuits, and much more. All of Paw Street's foods are made with 100 percent dog-safe, fresh organic ingredients. Visit the biscuit bar or have a custom gift basket made for your favorite pup! Paw Street also hosts fundraising events to help support local shelters and local rescues.
Location:
---

About the Author
Kristie Smith
Kristie Smith is the founder and CEO of the Indy Homes Real Estate Team. She is a REALTOR, and is one of the most recognized and accomplished Indiana real estate agents. Ranked among Central Indiana's top 10 real estate teams, the Indy Homes Team specializes in relocating families moving to the Indy area, as well as Helping People on the Move locally in Indy.
---
Homes for Sale with Fenced Yards