Teach your dog new tricks: Dog training in Indianapolis
Posted by Kristie Smith on Thursday, October 11, 2018 at 9:42 PM
By Kristie Smith / October 11, 2018
Comment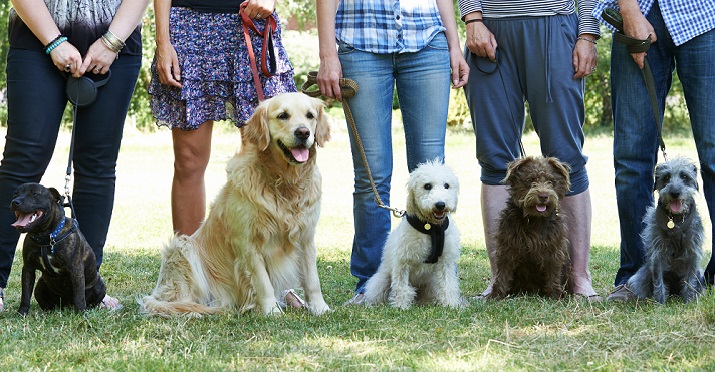 Our relationship with dogs is a special bond. They offer comfort, companionship, and joy in our daily lives. Obedience training can be crucial to maintaining that bond over time. Proper training will help keep your dog safe—no one wants their dog running out in the middle of traffic! It will also help you to communicate with your dog to know their needs and set boundaries.
Finding the right trainer
Knowing all of that, how do you find the right trainer? Begin by deciding what training is necessary for your dog. Do they have negative behaviors you want to fix or do they need to learn basic commands? From there you can find the class that is right for you and your dog. It is extremely important to find a trainer that uses positive reinforcement training. Using positive reinforcement promotes a loving and healthy relationship with your dog. Lastly, meet with the trainer beforehand to see if their personality meshes with yours and that of your dog.
Training costs
Once you've found a trainer you like, what should you expect to spend? Private classes can cost between $30 and $100 per house. According to CostHelper, six training sessions can range from about $240 to $600. Group lessons tend to be a bit lower in price. You may also spend about $50 on training aids like leashes or dog treats
We've listed some of the Indianapolis area's highly rated trainers and obedience schools below. If you've had success with a dog trainer or obedience school, we'd love to hear about it! Tell us in the comments below.
BONUS: Scroll down for a list of dog-friendly homes for sale—that is, homes with full backyard fences.
A Wag N' Time
Finding the time to take your dog to a training facility can be tricky. While A Wag N' Time does offer small class settings their focus is on in home training. In addition to general obedience training, they also provide training to become a dog trainer and service dog training. Their location in Carmel make them the perfect stop for residents north of Indianapolis.
Training options:
Puppy Pre-school Training
Intermediate Puppy & Shelter Dog Training
Advanced Obedience
Training to be a Dog Trainer
Service Dog Training
Location:
Bradley Phifer Dog Training
Bradley Phifer's in-home training sessions help you with the needs of your dog, but are focused on basic training. He also offers behavior modification consults that focus on issues you may have with your pup.
Training options:
In-home training
Behavior modification consults
Location:
At your home - services the Indianapolis metropolitan area | More info >>
Connie Swaim Canine Behavior Services
Connie Swaim is an in-home dog trainer who personalizes her services to the needs of your dog. She can work with your dog on puppy training or more serious issues like aggression. In addition to training, she offers consultation services to businesses in the pet industry, like shelters and kennels.
Training options:
Location:
At your home . Will service any area with fees relative to the distance traveled | More info >>
Custom Intelligence Training
Custom Intelligence Training owner Melissa Bannister will train your dog in the comfort of your own home. Melissa offers a free training evaluation to help you choose which services will be the best fit for your dog.
Training Options:
Puppy Selection Counseling
Puppy Pre-School
Puppy Kindergarten
Basic Obedience
Advanced Obedience
Location:
Private training in your home—serves all of North Central Indiana | More info >>
Donna Chandler's Good Dog! ONE-der Class
Donna Chandler's approach to dog training is from an online perspective. Her 37 different training videos allow class to progress at your and your dog's own pace. In addition to dog training, she also offers a Veterinary Continuing Education course for those looking for CE credits.
Training options:
37 training videos, about 3-4 minutes each
Location:
Online training videos - available wherever you have internet access | More info >>
Fetch Academy
Fetch Academy offers daycare, overnight boarding, and puppy training. Fetch specializes in puppy training such as potty training, socialization, and communication skills. Drop off your puppy in the morning before work and pick them up at the end of the day with a puppy progressreport. A great option for on-the-go dog parents.
Training options:
Location:
Indiana Dog Whisperer
Vernon Taylor and Marci Burk, owners of Indiana Dog Whisperer, offer in-home training. They create a training program focused entirely around your dog's needs. Before the session, they ask families to create a list of problems they would like addressed. They specialize in socialization, treadmill and potty training, as well as food/dog/human aggression but can address a range of issues.
Training Options:
Completely customized to your dog's needs
Location:
Private training in your home—serves indianapolis and the surrounding area | More info >>
Indianapolis Obedience Training Club
Indianapolis Obedience Training Club is a non-profit organization established in 1938. It is the oldest obedience school in Indianapolis. IOTC meets on Thursday nights with other therapy teams at Community Hospital East to bring joy to patients through pet therapy. While IOTC offers training, its focus is on giving back to the community.
Training options:
Basic Obedience
Advanced Obedience
Conformation Class
Location:
Lorenzo's Dog Training Team
Part of the Lorenzo's Dog Training Team network, trainer Julie Allen serves the Indianapolis area and is dedicated to helping canines have a better way of life. All dog training sessions are private, one-on-one sessions.
Training options:
Basic Obedience
Behavior Modification
Specialty Training
Location:
Private training in your home—serves indianapolis and the surrounding area | More info >>
Positively Canine
In addition to positive reinforcement training, Positively Canine offers daycare and lodging. The trainers practice science-based dog training and behavior modification and specialize in anxiety, fear aggression and reactive dog behavior issues.
Training options:
Adult classes
Puppy classes
Location:
Range Pet Lodge
With more than 40 years of experience in the field, Range Pet Lodge offers beginner, intermediate, advanced, and in-home dog training. They provide initial consultations so you can find what is best for your dog and family. In addition to training, they offer boarding, daycare, and grooming.
Training options:
Puppy Head Start
Life Skills
Advanced Life Skills
In-Home Training
Location:
The Animal Den
The Animal Den offers beginner, advanced, and specialized training. The Animal Den's trainers cover a range of topics, from home problems (biting, chewing, etc.) to socialization, and commands. Outside of training, The Animal Den offers lodging, daycare, and grooming services.
Training options:
Good Dog 101 - 8 week beginner training
Good Dog 102 - 8 week advanced training
Specialized Training
Location:
Ultimate Canine
All training is one-on-one and customized to your goals for your dog. You as the owner will learn side-by-side with your dog, whether its off leash training, behavior modification or just basic obedience and good manners.
Training options:
Obedience
Basic Training
Behavior Problems
Canine Good Citizen
Service & Therapy Dog
Location:
Zionsville Country Kennel
Zionsville Country Kennel offers boarding, a kennel camp, a bark park, training, and grooming. Their love for animals shows in everything they offer from their five-acre dog park including a lake and dock to their experienced trainers. For training they believe in positive reinforcement as the means to change behavior.
Training options:
Puppy & Dog - Basic Obedience Group Class
Private Training
Beyond Basics - Group Class
Free Training Consultation
Location:
---

About the Author
Kristie Smith
Kristie Smith is the founder and CEO of the Indy Homes Real Estate Team. She is a REALTOR, and is one of the most recognized and accomplished Indiana real estate agents. Ranked among Central Indiana's top 10 real estate teams, the Indy Homes Team specializes in relocating families moving to the Indy area, as well as Helping People on the Move locally in Indy.
---
Homes for Sale with Fenced Yards