Don't let emotions dictate your home buying decision
Posted by Kristie Smith on Tuesday, July 12, 2016 at 5:39 PM
By Kristie Smith / July 12, 2016
Comment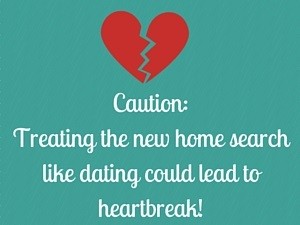 Ah, love. Who doesn't want to experience the rush of falling in love? Falling in love with another person is wonderful, but beware falling in love with a house! As a long-time Realtor, I've seen many buyers treat the home search like dating. They look around, hoping for love at first sight. Instead of focusing on important features, they're distracted by pretty details. Before they know it, they've been seduced by a slick charmer, and they can't see how it may not really suit them. True, that cute house may seem perfect at first. That is, until the annoyances begin to pile up. The tiny closets are bursting at the seams, the family fights over the one bathroom every morning, and the noise from the busy street is grating.
When you realize that you've fallen for the wrong guy, you can easily walk away. But it's much more complicated to break up with a house. It usually takes several years to build equity in a home, and you can't sell after six months or even a year or two without losing money.
Approach your home buying decision with objectivity
Because buying a home is one of the biggest financial decisions you'll make, it's important to enter into the home buying process with a clear head and a firm understanding of what you need. Check your emotions and ensure that you can live with your investment for the foreseeable future.
Here are some tips to avoid the mistakes that come with emotional home buying:
Don't make an offer until you've seen at least five homes. Jumping on the very first home you look at could lead to overpaying as well as buyer's remorse.
Do make a reasonable list of basic things you can't compromise on (school district, budget, number of bathrooms, one-story). Share that list with your Realtor so he or she will show you only homes that meet your criteria.
Do know when to move on. In today's Indianapolis housing market, you may find yourself competing against several other bids. Decide how high you're willing to go ahead of time and walk away when you hit your limit.
Do work with a Realtor who knows the local market inside and out. He or she will be able to steer you to areas that are growing in value, point out features that will help with resale value and negotiate for the best deal for you.
Do find a Realtor who has the experience to help you make a sound investment, and make sure he or she takes the time to answer your questions. Remember, your Realtor is there to counsel you as you make this big decision.
If you're in the market for a new home, the Indy Homes Team prides itself on its extensive knowledge of the Indianapolis market. We'll work with you to find a great home that fits your needs. Call us at (317) 815-4450.
Tell us!
Have you ever made an emotional home buying decision? How did it turn out? We'd love to hear about your experience in the comments below!
---

About the Author
Kristie Smith
Kristie Smith is the founder and CEO of the Indy Homes Real Estate Team. She is a REALTOR, and is one of the most recognized and accomplished Indiana real estate agents. Ranked among Central Indiana's top 10 real estate teams, the Indy Homes Team specializes in relocating families moving to the Indy area, as well as Helping People on the Move locally in Indy.
---