Buy Girl Scout cookies, support a future business woman!
Posted by Kristie Smith on Sunday, January 15, 2012 at 12:26 AM
By Kristie Smith / January 15, 2012
2 Comments
It's one of my favorite times of the year–Girl Scout cookie season! Just the other day, I caught the local morning news highlighting the kickoff of the 2012 Girl Scout cookie program.
Two hours later… ding-dong at my door. WOW! This neighborhood Girl Scout was on it, but she had to be. This girl's goal was to sell 1,000 boxes! That's $3,500 worth of cookies and a huge lesson in managing money.
Two days later, I received an articulate email from a SECOND GRADER asking me to buy cookies.
Are you surprised that so many successful business and career women got their start selling Girl Scout cookies? For many girls, including me, selling Girl Scout cookies is their first taste of entrepreneurship.
Why Girl Scout cookies?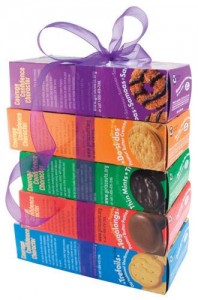 According to the Girl Scouts, the activity of selling cookies is directly related to the organization's purpose of helping all girls realize their full potential and become strong, confident, and resourceful citizens. As a strong, successful female entrepreneur, I'm thrilled that so many girls get this opportunity.
Specifically, through the Girl Scout cookie program girls develop five essential skills:
Goal setting
Decision making
Money management
People skills
Business ethics
So where does the $700 million that the Girl Scout cookie program generates go? Back to the girls' communities. Girls set cookie goals to support their chosen activities for the year, to fund community service and leadership projects, to attend summer camp, to travel to destinations near and far and to provide events for girls in their community.
As the Girl Scouts say, "Every cookie has a mission: To help girls do great things."
Support your local Girl Scouts by buying a few boxes of Thin Mints, Trefoils or Samoas. (Find the Girl Scout cookie booth nearest you.) By doing so, you're helping to develop a new generation of female leaders!
Share your Girl Scout cookie sale memories in the comments, and tell me what your favorite Girl Scout cookie is! (Mine is Samoa… yum!)
---

About the Author
Kristie Smith
Kristie Smith is the founder and CEO of the Indy Homes Real Estate Team. She is a REALTOR, and is one of the most recognized and accomplished Indiana real estate agents. Ranked among Central Indiana's top 10 real estate teams, the Indy Homes Team specializes in relocating families moving to the Indy area, as well as Helping People on the Move locally in Indy.
---