Convenience with a click: Indianapolis grocery delivery services
Posted by Kristie Smith on Tuesday, July 3, 2018 at 4:59 PM
By Kristie Smith / July 3, 2018
Comment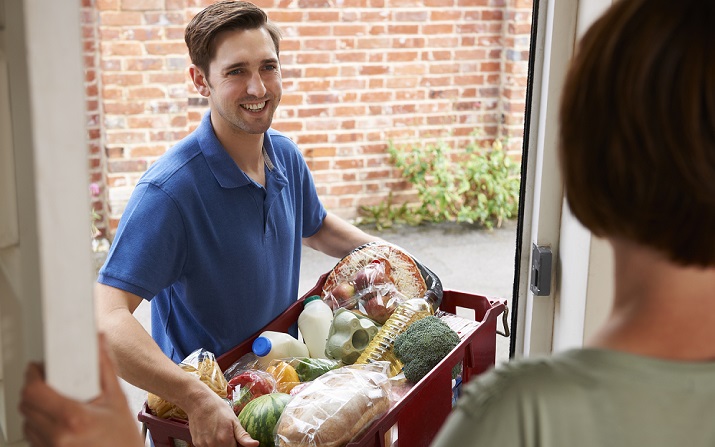 Hate grocery shopping and the amount of time it takes out of your already busy week? Grocery delivery services have proliferated in Indy over the past couple of years, making shopping easier and much more convenient. (What could be more convenient than having your order delivered in as little as one hour?) Many of these door-to-door services also offer delivery of other types of items—everything from electronics to diapers to gadgets for your kitchen—a lifesaver for when you are sick, don't want to haul the kids to the store with you, or are just crunched for time.
Make time for the things you enjoy! Here's the low-down on the grocery delivery services available in the Indianapolis area:
Amazon Prime Now
Amazon Prime Now promises orders within as little as two hours, and you can shop tens of thousands of items across dozens of categories, including household items, groceries, electronics, gifts, seasonal items, and more. Order Amazon products, as well as groceries from Fresh Thyme and Whole Foods, and have them delivered from 8 a.m. to 10 p.m. seven days a week. You must have an Amazon Prime membership, which costs $119 annually. Delivery is free with your Prime membership.
Instacart
Get all your weekly shopping done in a just a few clicks! Instacart offers delivery in the Indy area from several stores: Fresh Thyme, Meijer, Kroger, Costco, CVS, Petco and Sur La Table. Your delivery fee depends on the size of your order and the delivery time you choose, and delivery can be made in as little as one hour. If you prefer, you can also pick up your order. Instacart has "Busy Pricing," similar to Uber's surge pricing, so you probably won't want to use Instacart the day before Thanksgiving. However, if you purchase an annual membership ($149), called Instacart Express, you'll avoid busy pricing as well as delivery fees for orders over $35. Instacart also allow you to contact your shopper while they shop, and you can watch your "shop" progress in real time. As for coupons, Instacart does not honor in-store sales or coupons, but it does offer its own deals. Try a free two-week trial.
Shipt
With Shipt, have groceries and more from Meijer and Target delivered right to your home, in as soon as one hour. (There are more than 50,000 available items to choose from!) If your shopper can't find the exact item you requested, he or she will text you about a substitution. An annual membership costs $99, although as of this writing, a special promo cuts that cost to $49. Orders over $35 are delivered for free. At this time, Shipt does not accept coupons, but it does feature weekly in-store sales and its own sale category in the app. If you want to give Shipt a whirl, you can try it free for two weeks.
Peapod
Founded in 1989, Peapod is one of the oldest online grocery services. Unlike many other services, Peapod employs its own drivers, and because its popularity has grown in the Indianapolis market, deliveries sometimes have to be scheduled a day or two out. Plan ahead! Couponers love that Peapod accepts manufacturers' coupons and even doubles those up to 99 cents. It also offers its own exclusive weekly specials and discounts. Some of Peapod's favorite products include its exclusive meal kits, the "buy in bulk" store, and delivery of ice cream from favorite local ice cream shops. That's right—you can have Graeter's delivered right to your door! Delivery fees are based on the size of your order; you can also pay a flat fee for unlimited delivery during a specified amount of time. Spend $2,000 within a one-year time frame and become a VIPea, which has several benefits, including free delivery and products.
Green Bean Delivery
Headquartered right here in Indianapolis, Green Bean Delivery specializes in local, organic and natural foods. Green Bean offers a traditional "produce box" experience, in which you subscribe to a fixed amount of seasonal produce picks, which are automatically delivered weekly or biweekly. In addition to produce (or skip the produce selections if you like), you can add other items to your subscription, or "Greenlist." Greenlisted items are automatically added to your shopping cart for your upcoming order to save you time; edit your Greenlist at any time. Green Bean does not charge registration or membership fees, but minimum orders must be met to get free delivery. One thing that we love about Green Bean is that you can order items from local favorites, including the Smoking Goose, Scholar's Inn Bakehouse, the Healthy Hoosier and Circle City Kombucha.
Kroger ClickList
Some areas of the country offer Kroger ClickList delivery, but the Indianapolis market has just the option of ClickList Pickup as of this writing (although you can have Kroger groceries delivered via Instacart). Simply log in at Kroger.com, locate the store from which you want to pick up your items (note that not all Kroger locations offer ClickList), add your selections to your bag and submit your order. Depending on availability, pickup can be scheduled for the same day or as far out as three days. Digital coupons can be loaded to your Kroger Shopper's Card and are automatically applied. Service fees are waived for your first three orders. After your trial period, you'll be assessed a fee, which varies by region; you can find more info online at checkout or from your local store. Pickup is easy—when you arrive at your store, follow the signs to the ClickList pickup area. Call the number on the sign, and an associate will bring out your order and load it into your car. So easy!
Market District Curbside Express
Indianapolis has just one Market District store, at 116th Street and Illinois in Carmel, but it offers Curbside Express service to make shopping convenient. As with Kroger ClickList, you place your order online at least four hours and up to seven days ahead of time (although times may vary) and up an in-store shopper will shop your order. To pick up your order, drive up to Market District's Curbside Express Lane, call the number posted and your delivery will be brought to your car. Coupons and final payment are accepted at that time. First-time customers can try their first three orders for free—a $4.95 value per order!
Have you tried any of these services? Which is your favorite and why? Tell us in the comments below!
---

About the Author
Kristie Smith
Kristie Smith is the founder and CEO of the Indy Homes Real Estate Team. She is a REALTOR, and is one of the most recognized and accomplished Indiana real estate agents. Ranked among Central Indiana's top 10 real estate teams, the Indy Homes Team specializes in relocating families moving to the Indy area, as well as Helping People on the Move locally in Indy.
---