Is your Indianapolis kitchen making you fat?
Posted by Kristie Smith on Friday, July 27, 2012 at 1:53 PM
By Kristie Smith / July 27, 2012
1 Comment
When it comes to weight gain, we blame our genes, our metabolism, and wrong foods that taste so good. But it's just possible that our Indianapolis kitchens are to blame. Here's why.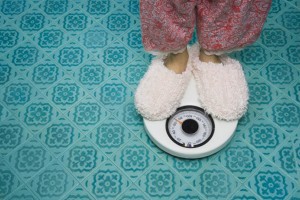 Dieters beware: Your dream kitchen remodel may be your biggest nightmare. Experts say that big and attractive kitchens contribute to big and unattractive waistlines.
Just shoot me now. I love my big kitchen — used for parties, entertaining, family gathering, and plus it doubles as my home office at times.
"If a kitchen gets you there and keeps you there, you're going to increase your food consumption," says Mark Blegen, an associate professor at St. Catherine University in Minnesota, who studies why people eat. "Even if you add only 10 extra calories a day, you're going to gain weight over the long term."
You mean remodeling a small and dreary kitchen into a big and fabulous one is hazardous to our health?
"Getting people to think that this kitchen may be causing me to gain weight is a huge shift," Blegen says. "But if people want to take an honest look at their weight, they ought to take a look at every aspect of their environment."
Weight management depends on many things — genetics, metabolism, running shoes that live under your bed. But calories-in and calories-out also depend on increasing and decreasing barriers to food. Kitchen size, design, storage, and appliances all erect or destroy those physical and psychological barriers. Here's how.
Kitchen-great room combos: As big kitchens multitask as family rooms, homework centers, and offices, we spend more time around food. "If it's right there in front of you, odds are you'll want to consume it," Blegen says. In fact, a seminal study on eating and environment found that moving a candy bowl 6 feet away from eaters reduced their consumption by 50%. It's hard to move food away from you in a kitchen.
Traditional design: Kitchen designers are slaves to minimizing the distance between a kitchen's sink, stove and refrigerator — its "work triangle." But researcher Brian Wansink says the smaller the triangle, the more we're eating when we're supposed to prepping.
Too-handy storage: Kitchen storage puts you within reaching distance of calories. Walk-in pantries are the worst, because they encourage buying in bulk and stockpiling. Not only does stockpiling put you within steps of huge quantities of food, but the cost of buying and storing that bargain 10-lb. bag of Jasmine rice puts pressure on you to eat it. You can't win for losing.
Tempting refrigerators: Upscale, glass-front refrigerators bring you face-to-face with last night's leftovers, which call to you like sirens. And placing the fridge next to the eating nook makes it easier — and more likely — to grab a second helping.
Open-shelf cabinets: They remove that last, slim barrier between you and food — the cabinet door. "The more visible and the more convenient the food is in cupboards, the more likely you are to take it," says Wansink, author of "Mindless Eating." Take a look at his video, which shows how kitchens sabotage your diet.
Remodeling your kitchen? Give it the lean treatment
If your kitchen is tempting you to overeat, bite the bullet (no calories in that) and plan a remodel— keeping these strategies in mind.
Size the kitchen with food preparation, not munching, in mind. Instead of building an eat-in kitchen, devote space to prep islands, professional ranges, double ovens, and a couple of dishwashers. Then eat in a separate room, which reduces your temptation for seconds.
Place the refrigerator away from the kitchen entrance so you're not tempted to graze the moment you enter the room. Also, choose smaller refrigerators with bottom freezers, which require you to stoop to scoop that ice cream. And take those vegetables out of the crisper and put them on a center shelf, where they stare you in the face each time you open the fridge door.
Install cabinets with solid doors. If you like the look of glass, opt for opaque or antique glass that hides contents.
Avoid walk-in pantries that can store bushels of food. Instead, choose smaller cabinetry with pull-out shelves that reveals all the healthful food they will contain. (We live in hope.)
Keep televisions, iPads, and other distractions out of the kitchen. The less you focus on the food you're eating, the more you'll eat.
Install bright lights, which discourage eating. Researchers don't know exactly why harsh lighting means less eating. Perhaps we spend less time in places with annoying lighting. So use task lighting to help in food prep, save you money on dimmers, and keep lights bright.
Kitchen tweaks: No remodel planned? No problem
If you've like me and have already built the kitchen of your dreams or you're not planning a full-scale remodel soon, a little reorganizing can help you cut calories.
If you already have open shelves, place dishware and pots there, not food. If you must put food where you can see it, store it in opaque containers.
Remove stools from around your prep island. You burn more calories standing than sitting, and eventually you'll move to more comfortable spaces away from food.
Store fattening foods in a garage freezer or refrigerator; you'll think twice about dessert if you must walk to the garage to get it. And if you do indulge, you'll burn a few calories fetching those sweets.
Opt for one or two of the remodeling tips we noted above if you want to do a little more than reorganize but less than a full-on remodel.
What part of your kitchen encourages you to eat? Would you give it up to lose a few pounds?
---

About the Author
Kristie Smith
Kristie Smith is the founder and CEO of the Indy Homes Real Estate Team. She is a REALTOR, and is one of the most recognized and accomplished Indiana real estate agents. Ranked among Central Indiana's top 10 real estate teams, the Indy Homes Team specializes in relocating families moving to the Indy area, as well as Helping People on the Move locally in Indy.
---