Indianapolis luxury bathroom trends: TOTO Washlet
Posted by Kristie Smith on Thursday, May 12, 2016 at 6:05 PM
By Kristie Smith / May 12, 2016
Comment
As we build our new home in Lost Run Farm, I am overwhelmed by all the CHOICES we have with every selection for our home. Some options seem unique and fun; others seem excessive. The Toto Washlet was an option suggested by Ferguson as we chose all of our plumbing fixtures this month.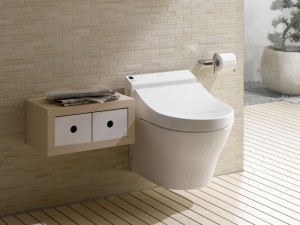 Even in the most extravagant homes, in which no expense is spared to make the homeowner and their guests feel pampered, Americans have historically deprived themselves of the ultimate in household luxury: heated, remote-controlled toilet seats with a built-in bidet feature. While the concept may seem too bizarre (or too indelicate) to those with American sensibilities, it is estimated that roughly 76 percent of households in Japan have such a technologically advanced toilet seat. In fact, the Japanese government tracks the popularity of electronic bidet seats as an indicator of economic prosperity. This luxury bathroom accessory is also used widely throughout Asia and the Middle East, and is even disrupting the market for traditional bidets in Western Europe. Although their use in the United States has mostly been limited to luxury hotels and a small cult following, the electronic bidet seat seems to be taking root.
TOTO, the largest plumbing manufacturer in the world, has sold more than 40 million Washlets, its brand of electronic bidet seat, since launching the product in Japan in 1980. Although only a few thousand Washlets are sold each month in the United States, TOTO's U.S. sales figures have increased by 20 percent in each of the last five years.
Why a Washlet?
In a recent press release announcing their huge sales success, TOTO described the toilet revolutionary accessory: "Washlets use pure, clean water – and myriad technological innovations – to make their users cleaner, happier, more refreshed than they have ever felt after a bathroom break by reinventing the humble toilet seat as a warm water personal cleansing system." And Toto seems to have succeeded in making its users happier. People who have had the pleasure of sitting atop a Washlet typically respond with rave reviews. In "The Cult of the Toto Toilet," for example, The New York Times interviewed the owner of a Manhattan plumbing showroom who said that going back to a regular toilet seat would be like "going back to the Stone Age. It feels very uncivilized."
Depending on how advanced an individual wants their electronic bidet seat to be, a TOTO Washlet can cost anywhere from $1,000 to almost $10,000. In addition to the standard features—heated seat, bidet wand, remote control—more high-end models might include UV light technology that kills bacteria and other cleansing functions to keep the luxury bathroom clean and fresh.
What are your thoughts? Are you ready to join the growing number of Americans enjoying the luxury of a Washlet? If so, you can order one at Ferguson. If you are daring enough, maybe I will, too.
---

About the Author
Kristie Smith
Kristie Smith is the founder and CEO of the Indy Homes Real Estate Team. She is a REALTOR, and is one of the most recognized and accomplished Indiana real estate agents. Ranked among Central Indiana's top 10 real estate teams, the Indy Homes Team specializes in relocating families moving to the Indy area, as well as Helping People on the Move locally in Indy.
---