Home trend: Master-on-main floor plans
Posted by Kristie Smith on Thursday, April 26, 2018 at 7:02 PM
By Kristie Smith / April 26, 2018
Comment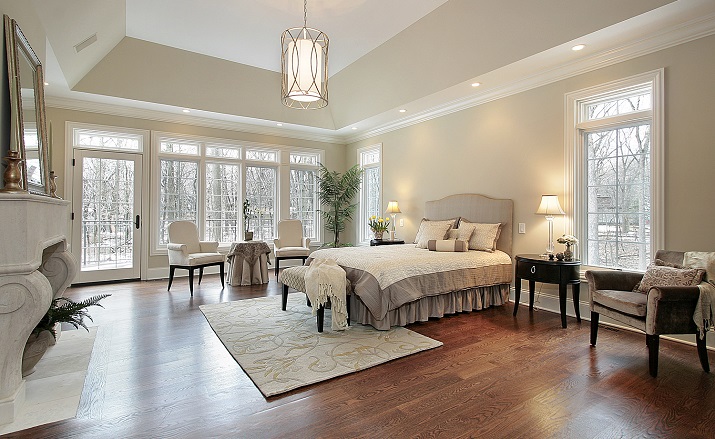 Home building trends come and go, but the master-on-main floor plan seems to be here to stay. This doesn't just go for upper-end homes—you'll find master bedrooms on main floors across every price point. (Scroll down for a full list of master-on-main homes for sale now in the Indianapolis area.)
What's driving the master-on-main trend?
A combination of practical concerns is driving the popularity of master-on-main floor plans, especially among certain growing demographics.
Baby boomers: A huge slice of the population is getting older (every day, 10,000 baby boomers turn 65), and these seniors, while still vibrant, don't want to subject their aching knees to dozens of trips up and down the stairs every day. Many are downsizing to homes with a master bedroom on the main floor while others are staying in the home that they love but closing off the upstairs and moving their bedroom downstairs to live on one level.
Multigenerational living: More and more generations are living together under one roof. According to the Pew Research Center, a record 64 million people, or about 20 percent of the U.S. population, lived with multiple generations in one household in 2016. Master bedrooms on main floors are ideal for these living arrangements—they better accommodate the mobility restrictions of an aging parent or the privacy needs of an adult child moving back with their parents.
A need for privacy: Parents who work long hours enjoy the quiet and privacy of a master retreat away from the children's bedrooms on the upper floor. Even parents who want to sleep near their kids while they're small plan to eventually move to the main floor when the kids get older.
Special considerations
If you're thinking about buying or building a home with the master-on-main floor plan, here are some considerations to keep in mind:
Cost: Adding a master bedroom to the floor plan of a home expands its footprint, which means that it will be more expensive to build. But your home will retain its value, especially in a neighborhood where the master-on-main floor plan isn't so prevalent.
The laundry room: If you're building a home with the master bedroom suite on the first floor, give careful consideration to where the laundry room will go. Does it make sense to have it upstairs where the majority of the bedrooms are (assuming those bedrooms are occupied) or downstairs near the mudroom and the master bedroom?
Bathroom count: Buyers of larger single-family homes, especially those greater than 3,000 square feet, want a bathroom for every bedroom to accommodate older kids, guests and a parent or adult child who moves in. Plan your build accordingly.
You never know: Even if you think you don't want a master bedroom on the main floor now, you should consider having one—just in case. You might be glad you did as life circumstances change, and your home will fetch a higher price when it's time to sell.
Of course, we recommend hiring an experienced REALTOR to help you make decisions when building your home so you can maximize its resale value. Contact us at (317) 815-4450 to discuss building your dream home.
Do you have a home with a master on the main floor? What do you like most about it? Tell us in the comments below!
---

About the Author
Kristie Smith
Kristie Smith is the founder and CEO of the Indy Homes Real Estate Team. She is a REALTOR, and is one of the most recognized and accomplished Indiana real estate agents. Ranked among Central Indiana's top 10 real estate teams, the Indy Homes Team specializes in relocating families moving to the Indy area, as well as Helping People on the Move locally in Indy.
---
Indianapolis-Area Master-on-Main Homes for Sale