Should Indianapolis embrace Naptown?
Posted by Kristie Smith on Sunday, March 18, 2012 at 9:22 PM
By Kristie Smith / March 18, 2012
Comment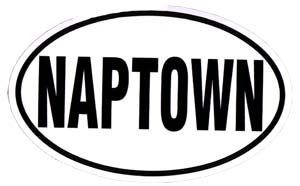 I just came across this interesting Indianapolis Star article about Indianapolis and the history of its (in)famous nickname, Naptown. In the article, Duncan Schiedt, a well-known Indianapolis/Naptown photographer of jazz musicians, including those that played along Indiana Avenue in the 1920s and '30s, asserts that "the nap in early references to Naptown didn't represent a midday snooze but rather, simply, the fourth — and most prominent — syllable in Indianapolis." The moniker Naptown "suggests the informality of jazz musicians' conversation," Schiedt says.
So Naptown started out as a hip reference to one of the great jazz centers of the '20s, only to devolve later in the century into a derogatory term referring to a boring, sleepy town. But, like so many fashions, what was out is in again! Over the past decade or so, Naptown has become a term of endearment for our city. It's been adopted by everyone from the Naptown Roller Girls to Naptown Stomp (a swing dance group) to various businesses around Indianapolis (Crossfit Naptown, Naptown Records, Naptown Chickens, even). Rappers use the nickname in their music, and denizens of Indianapolis and Annapolis, Maryland, argue in online forums over which city has dibs on the designation Naptown.
What do you think? Should Indianapolis embrace the term Naptown? Does it represent a unique branding opportunity for our city, as this blogger suggests? Or do you prefer "Indy" or "Circle City"? Let me know in the comments!
---

About the Author
Kristie Smith
Kristie Smith is the founder and CEO of the Indy Homes Real Estate Team. She is a REALTOR, and is one of the most recognized and accomplished Indiana real estate agents. Ranked among Central Indiana's top 10 real estate teams, the Indy Homes Team specializes in relocating families moving to the Indy area, as well as Helping People on the Move locally in Indy.
---