A guide to Indianapolis top employers
Posted by Kristie Smith on Tuesday, May 15, 2012 at 9:43 PM
By Kristie Smith / May 15, 2012
Comment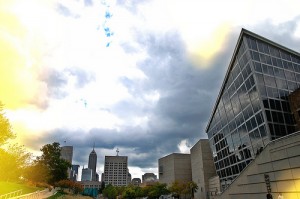 As relocation director at Keller Williams Realty, I am often called upon to provide tours of Indianapolis for different corporations' executive job candidates. One question I'm asked time and again by these candidates is "If I move here, what career opportunities are there for my spouse?" They're often surprised at the variety of employers that we have here in Indy, including in the life sciences sector, so here's a quick run-down of some of Indianapolis' prominent employers.
Dow AgroSciences—Dow AgroSciences, based in northwest Indianapolis, is a wholly owned subsidiary of The Dow Chemical Company and is focused on boosting agricultural productivity around the world. Career paths include research and development, sales and marketing, finance, human resources, law, and operations. Learn about careers at Dow AgroSciences.
Eli Lilly and Company—Lilly arguably is Indianapolis' most well known corporate headquarters and is highly visible in the city through support of the arts, education and other endeavors. Of course, career opportunities with the global pharmaceutical company center on science and medicine, but great career paths in marketing, engineering, sales, human resources and public policy are to be had. With more than $21.8 billion in sales in 2011, Lilly employs 37,000 people globally, with more than 10,000 employees in the Indianapolis area. Learn more about careers at Lilly.
Government—As the capitol of Indiana and the largest city in the state, Indianapolis employs a wide variety of city, state and federal workers. Learn about careers in Indianapolis government, Indiana government and federal government.
Healthcare—For a city its size, Indianapolis has a competitive hospital market, with major players Indiana University Health, St. Vincent Health, Community Health Network and Franciscan St. Francis Health. This translates to lots and lots of jobs in a very stable industry. Indianapolis also supports the state's only medical school—the Indiana University School of Medicine.
Higher education—For those seeking jobs in higher education, Indianapolis is home to several universities, small and large. Indiana University-Purdue University at Indianapolis (IUPUI) is one of the nation's largest and most vibrant commuter campuses and houses Indiana University's schools of medicine, dentistry, law and nursing. It also includes Purdue's engineering and business schools. Butler University, the University of Indianapolis, Marian University and Martin University are well-established Indianapolis institutions, and Indiana University, Purdue University and Ball State University are all within an hour's drive of the city.
Interactive Intelligence—An industry leader, Interactive Intelligence Group, Inc. provides contact center automation, unified communications, and business process automation software and services for mid-size to large organizations. Headquartered in Indianapolis, Interactive Intelligence has been named one of Indiana's "Best Places to Work" for several years running. Career paths include engineering, IT, sales and marketing, education and training and accounting and finance. Learn more about careers at Interactive Intelligence.
Roche Diagnostics—Roche Diagnostics' U.S. headquarters in Indianapolis employees more than 4,000. Indianapolis employees oversee the company's U.S. research & development, sales, commercial operations, laboratory, manufacturing, distribution, IT and corporate operations in support of five diagnostics business areas. Roche has played a prominent role in Indianapolis' life sciences initiative. Learn more about careers at Roche.
Rolls-Royce—Calling engineers! Did you know that Rolls-Royce, the major jet engine manufacturer, has a facility in Indianapolis? With more than 4,000 employees, it's the largest Rolls-Royce operation outside of the UK. Employees here design, develop and manufacture products for the civil and defense aerospace markets, including engines for corporate and regional aircraft, and helicopter and defense products. Learn more about careers at Rolls-Royce.
Anthem, Inc.—Listed among the Fortune 100, Anthem is a major player in health insurance and headquartered in downtown Indianapolis. Career paths include actuarial, IT, business development, marketing and communications, finance and underwriting. Learn more about careers at Anthem.
---

About the Author
Kristie Smith
Kristie Smith is the founder and CEO of the Indy Homes Real Estate Team. She is a REALTOR, and is one of the most recognized and accomplished Indiana real estate agents. Ranked among Central Indiana's top 10 real estate teams, the Indy Homes Team specializes in relocating families moving to the Indy area, as well as Helping People on the Move locally in Indy.
---