Lessons from author John Green
Posted by Kristie Smith on Tuesday, October 15, 2019 at 11:40 AM
By Kristie Smith / October 15, 2019
Comment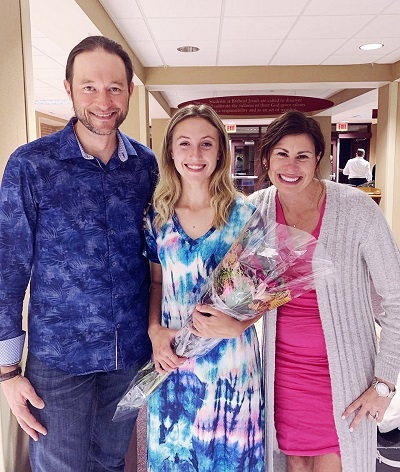 Recently, my husband AJ and I got to witness some talented Indianapolis high school students act out a story based in Indianapolis and written by an Indianapolis author.

Maybe you've already guessed, but the play was "The Fault in Our Stars," based on the best-selling young adult novel by John Green. The film adaptation, released in 2014, was also wildly popular and critically acclaimed. In case you're not familiar with the story, it deals with two cancer-stricken teens who fall in love with each other after meeting at a cancer support group. With permission from Green, Brebeuf Jesuit Preparatory School's theater students adapted the play from the novel last year and produced it this past fall. Brebeuf's production marked the first time the stage version of the novel was performed, and I was thrilled to witness it in support of my neighbor, senior Sophie Weeter, who played Hazel's mom. (Such a talented young lady—she just got accepted to Cornell as a direct admit for soccer.)

Beyond the play, which was incredibly well done (kudos to the students and Tobin Strader, Brebeuf's theater director), I was impressed with a story Sophie told me about the generosity of John Green. Despite being a best-selling author with a jumble of side pursuits, he took the time to write a lovely letter of encouragement to the students as they worked on the play. Even more, Green surprised them by showing up for the play's dress rehearsal. I can't imagine how proud the students must have felt performing for him. I'm sure it's a moment that will forever be etched in their memories.

John Green didn't have to go to these lengths. He's busy, he's important, he's made it. But his thoughtful actions are a good reminder for us all to be kind, stay humble, and engage with those in your community. You get out of life what you put into it.
I'd love to hear from you—who do you consider a role model of humility and generosity, and why? Post your thoughts in the comment section below!
---

About the Author
Kristie Smith
Kristie Smith is the founder and CEO of the Indy Homes Real Estate Team. She is a REALTOR, and is one of the most recognized and accomplished Indiana real estate agents. Ranked among Central Indiana's top 10 real estate teams, the Indy Homes Team specializes in relocating families moving to the Indy area, as well as Helping People on the Move locally in Indy.
---