Looking to buy a home? Make sure your finances are in order
Posted by Kristie Smith on Monday, August 8, 2016 at 3:35 PM
By Kristie Smith / August 8, 2016
Comment
Looking at homes online or with your Realtor is the fun part of buying a home. The not-so-fun—but essential part—is making sure you're financially ready for one of the largest purchases you'll probably make. Depending on your situation, you might need to begin preparing well ahead of your home purchase. Here are a few tips to make sure you're financially ready to buy a new home.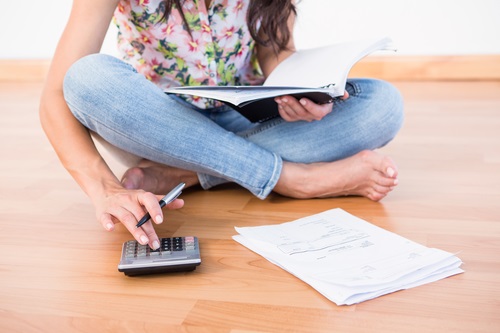 1. Work on your credit rating
If you want to get the best mortgage rate, your credit rating needs to be at least 740. It's smart to check your credit report and resolve any errors. To improve your score, pay all your bills on time, don't apply for any credit cards, and work on lowering your existing card balances. Credit Karma offers a free app that allows you to monitor your credit rating from your smartphone.
2. Chip away at your debt load
Obviously, it's important to lenders that you be able to pay them back, so they will also evaluate your debt ratio to ensure that you can manage a house payment on top of the rest of your debt. Most lenders prefer a debt ratio of 36 percent or less. To figure your debt ratio, add up the monthly minimum payments for your credit cards, car loans and other debt. Divide your monthly take-home pay by your monthly debt payment total to get your debt ratio. For example, if you net $4,000 in income every month and must pay a minimum of $500 to debt, your debt ratio is 12.5 percent. If you need help getting your arms around your debt, try inputting your credit card information into Mint.com. Mint's graphs will show your aggregate debt diminishing week after week as you make your payments. Great motivation!
3. Work with a lender to get prequalified for a mortgage
This process will determine how much you will qualify to borrow for your home purchase, and most Realtors require that you be prequalified before you begin the house hunt. We recommend Susan Nemeth with Cafe Lending.
4. Determine how much—realistically—you can really afford
Many financial experts recommend that home buyers keep their house payment to 25 percent or less of their monthly take-home pay. Keep in mind that in addition to your mortgage you will also need to pay property taxes, homeowners insurance, and costs associated with maintaining your home.
5. Save money for a down payment
Ideally, down payments are 20 percent of the purchase price of the home. If you don't have a large down payment stashed away, many lenders will accept down payments as little as 3 percent. However, putting 20 percent down saves you the cost of private mortgage insurance (PMI), a pesky monthly fee that you will have to pay until the equity in your home increases. This insurance doesn't protect you, though—it actually protects the lender if you stop making payments on your home.
6. Make sure you have money for closing costs
These costs are the fees associated with taking out a mortgage, such as appraisals, title insurance, tax service provider fees, administrative fees, etc. In some cases, you may be able to negotiate for the seller to cover some or all of the closing costs, which can amount to several thousand dollars. Keep in mind that this will impact your negotiation of the home's selling price.
Have questions about the home buying process? Leave a comment below, or contact us at (317) 815-4450.
---

About the Author
Kristie Smith
Kristie Smith is the founder and CEO of the Indy Homes Real Estate Team. She is a REALTOR, and is one of the most recognized and accomplished Indiana real estate agents. Ranked among Central Indiana's top 10 real estate teams, the Indy Homes Team specializes in relocating families moving to the Indy area, as well as Helping People on the Move locally in Indy.
---