You CAN make a difference!
Posted by Kristie Smith on Saturday, December 17, 2011 at 5:05 PM
By Kristie Smith / December 17, 2011
Comment
Have you heard Kid Rock's new duet with Martina McBride, "Care"? Its message has really caught my attention. Here are the lyrics to the chorus:
"Cause I can't stop the war
Shelter the homeless, feed the poor
Can't walk on water, I can't save your sons and daughters
I can't change the world to make things fair
The least that I can do is care."
I understand that these are rough times for so many, and we're probably all a bit jaded by war, the bad economy and the hijinks of our politicians, but we don't have to be have the selflessness of Mother Theresa or Oprah's money to make a difference in the world. Caring is a good first step, but ANYONE can make a difference in the lives of others.
Consider Alex Scott, the 4-year-old cancer patient who started her own lemonade stand to raise money for pediatric cancer research, and raised more than $1 million by the time she passed away at the age of 8. Today, kids and adults around the world carry on her legacy by hosting their own lemonade stands to raise funds for the foundation created by Alex's parents.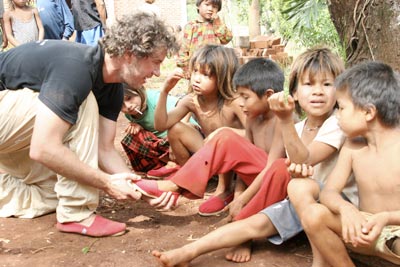 Or Blake Mycoskie, the founder of TOMS Shoes, who recognized the crucial need for shoes for children in third-world countries after traveling in Argentina. He founded TOMS with the simple premise of giving a pair of shoes to needy children for every pair of shoes he sold. Today, his company has given away more than one million pairs of shoes.
These examples show how ordinary people can make an extraordinary difference in the world. But taking the initiative to help others doesn't have to result in something as significant as a social movement or a business. Small acts of kindness can make an incredible impact too. For example, I was having a bad day recently when a total stranger smiled at me as I passed her in a busy store. She'll never know how much her bright smile lifted my spirits. It was a simple reminder that our actions, big and small, impact everyone around us. Sure, as individuals, we can't end the injustices of the world. But we can choose to do good, and small acts can ripple farther out then we might imagine. All it takes is caring, followed by action.
So the next time you hear these lyrics from Kid Rock, "I hear screaming on the left, yelling on the right; I'm sitting in the middle trying to live my life," know that you can do so much more by taking small action steps than sitting still "in the middle."
For ideas on spreading kindness and generosity in the world, check these out:
50 Simple Ways to Pay It Forward
KindSpring.org
RandomActsofKindness.org
KindnessMovement.org
---

About the Author
Kristie Smith
Kristie Smith is the founder and CEO of the Indy Homes Real Estate Team. She is a REALTOR, and is one of the most recognized and accomplished Indiana real estate agents. Ranked among Central Indiana's top 10 real estate teams, the Indy Homes Team specializes in relocating families moving to the Indy area, as well as Helping People on the Move locally in Indy.
---