Make a dog evacuation plan in case of emergency
Posted by Kristie Smith on Tuesday, May 7, 2019 at 10:07 AM
By Kristie Smith / May 7, 2019
Comment
Most homeowners have never faced a life-threatening disaster, which increases the liklihood of chaos when it comes time to deal with an actual emergency. Whether it be a fire, a flood, a tornado, an earthquake--you name it--there should always be an escape plan for family members AND the family pet. We all have methods of escape floating in the back of our minds. But whether these fantasies involve scaling down the side of a building, or busting through the living room window, these plans are most likely lacking organization and consideration for your furry friend. While cats are more likely to adopt a save-yourself mentality, and are built to leap from high places or even scale down a roof, dogs will want to make sure their human friends are safe and might unnecessarily risk their own life in a futile act of heroism. Here are some tips to ensure that your pet doesn't get lost in the chaos if disaster strikes.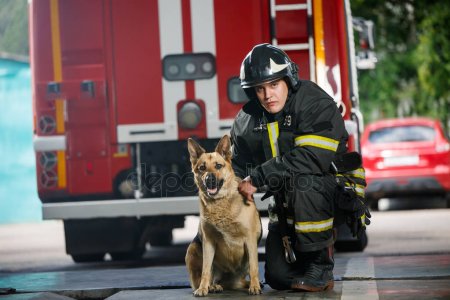 Find or Purchase Pet Rescue Decals: These are stickers you apply outside of windows, stating clearly what kind of pet you own and how many. Most ASPCA's hand out these decals for free.
Assign roles: To ensure that everyone evacuates the house efficiently, make sure that only one person is assigned to grabbing the dog and leading them out of the house.
Check the Hiding Places: Most animals have a place they retreat to during thunderstorms, loud movies, or when they've been caught after helping themselves to the pie that was left out on the kitchen table. In the midst of a disaster, they might run to hide in their safe space. Know where those spaces are, and be prepared to check them first if you can't find your pet.
Grab & Go Dog Baggie: Make sure that there is a pre-packaged bag tucked away containing a leash, treats, dog food, and even a special toy. Since dog food has a long expiration date, pre-packaging an emergency bag can be a measure you take TODAY. Depending on how long the disaster keeps you from returning indoors, making sure that your dog has familiar items is important.

Leave a Door Open: If you are unable to find your dog, leave the doors open. Once you leave a house during a fire, for example, it is recommended that evacuated victims shouldn't return. Leaving a door open guarantees a way out for your dog.

Have Fire Drills: Running through the same exact steps over and over will ensure that your dog's pathway to escape is memorized, and that in the heat of the moment, they'll draw from muscle memory.

Know your Neighbors: Having a support system in place after an emergency is key. If you and your family have to stay at a hotel that doesn't allow dogs, asking a dog-friendly neighbor if they can take care of your pet in case of an emergency means that you won't have to admit your dog into a kennel, which could leave them isolated and add to their stress.
The last thing we want as pet-owners is for our pet to suffer. Ensuring this won't happen means that planning for an escape is a must.