Celebrate May with Indianapolis 500 events and more!
Posted by Kristie Smith on Thursday, April 5, 2018 at 2:25 PM
By Kristie Smith / April 5, 2018
1 Comment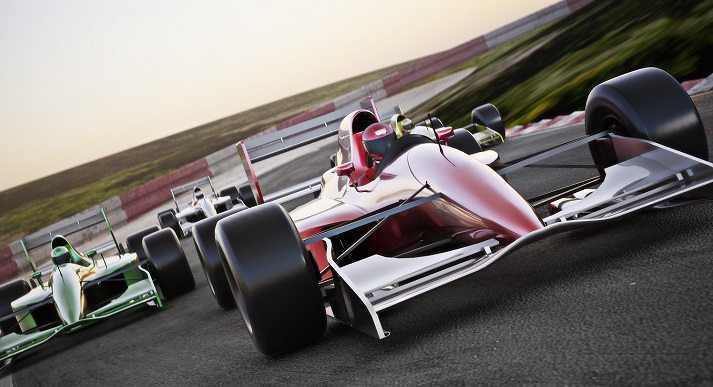 It may be hard to imagine now (please, no more snow!), but May and its springy warmth will soon be upon us. And Indianapolis will be festooned with not only new flora, but black and white checkerboards as well. Drive through a neighborhood or two—we bet you'll see at least a few friendly "Welcome Race Fans!" signs hanging from front porches. We love it—the tradition, pageantry and Hoosier hospitality that envelope the Indianapolis 500 make the month of May so special here. Whether you're an avid race fan or not, it's hard to not get caught up in the festivities! And lest we forget… there are plenty of other fun things going on in the city, too! Here are our picks for an aMAYzing month in Indy.
All Month: Indianapolis Indians Baseball
Let me root, root, root for the home team; if they don't win it's a shame! Right, Indianapolis Indians fans? Join in the great American pastime at Victory Field this month and all summer through September. Details >>
May 4: Grand Opening of the Biergarten at the Rathskeller
The reopening of the Rathskeller's Biergarten serves as an unofficial kickoff for summer, with the much beloved Polka Boy providing their special form of music and entertainment. Details >>
May 5: Carmel Farmers Market Opening Day
Featuring 64 vendors, the Carmel Farmers Market is one of the largest farmers markets in Indiana. Shop for fresh produce, eggs and meats, as well as a variety of prepared foods, while enjoying live music. Located at Center Green on the campus of Carmel's Center for the Performing Arts. Open May through September. Details >>
May 5: Broad Ripple Farmers Market Opening Day
Located in the heart of Broad Ripple at Broad Ripple High School, the popular Broad Ripple Farmers Market is back with a variety of fresh produce, tasty treats and bouquets of fresh flowers. Enjoy the vibe while doing your shopping. Open May through September. Details >>
May 5: 500 Festival Mini-Marathon
Whether you compete or cheer from the sidelines, this premiere half-marathon is a much-anticipated event every year. This year marks the 42nd Mini Marathon, and of course, features a lap around the famous Indianapolis Motor Speedway. Details >>
May 5: Rev
Kick off racing season with this exclusive experience at the Indianapolis Motor Speedway. Dine on driver-inspired cuisine, enjoy a variety of music and entertainment, and mingle with IndyCar drivers and racing legends. Funds raised support Indiana University Health statewide trauma and critical care programs. Details >>
May 9-13: Virginia Avenue Music Festival
Formerly known as the Virginia Avenue Folk Fest, this year's version of the Virginia Avenue Music Festival has been expanded to five days and will feature musicians of all genres—from funk to hip hop to rock. Bands will play stages all along Virginia Ave. in the Fountain Square and Fletcher Place neighborhoods. As in 2017, the festival will benefit Southeast Community Services, which works "to serve, strengthen and support our neighbors in southeast Indianapolis." All ages are welcome. Details >>
May 12: 500 Festival Rookie Run
If your kid dreams of someday running the Mini-Marathon, he or she can get a taste for what that's like by participating in the 500 Festival Rookie Run! All kids ages 3-10 are invited to join in, and they'll receive a goodie bag, a runners bib with the number 1, and a finisher's medal. After the run, head over to Kids' Day! Details >>
May 12: 500 Festival Kids' Day
This is the largest free outdoor festival for kids in Indiana, and the organizers go all out to make sure the kids in attendance and their families have a fantastic time! Kids can participate in circus workshops, learn Bollywood-style dancing, paint their very own masterpiece, race mini cars, conquer the 500 Festival's obstacle course, make sashes with the 500 Festival Princesses, and so much more! Details >>
May 12: Zionsville Brick Street Market
This juried market features arts, crafts and more from 200 artisans and exhibitors. Stroll along Main Street in Zionsville to explore the market and visit local businesses—it's a fun day of shopping! Free admission. Details >>
May 12: IndyCar Grand Prix
The IndyCar Grand Prix pits the world's best drivers against the road course at the Indianapolis Motor Speedway. With $25 general admission tickets (plus, kids get in free!) and unique sight lines from elevated viewing mounds, the Grand Prix is an ideal way to kickstart racing season. Details >>
May 13: Mother's Day at Newfields
Take the special mom in your life to Newfields this year for a stroll around The Garden, and then swing by the Beer Garden for a glass of champagne or a refreshing mint iced tea. Details >>
May 15: Opening Day for the 2018 Indianapolis 500
Ladies and gentlemen, start your engines! The Indianapolis Motor Speedway roars to life on May 15 as practice for the 102nd running of the Indianapolis 500 begins! Details >>
May 18: Bike to Work Day
You don't have to be an avid cyclist to pedal to work, and it may be easier than you think! Break out your bike and helmet and try an alternative commute. You can even join a bike train if you want a group to cycle with. This year's Bike to Work Day includes day-long festivities at Monument Circle, starting with the traditional Bike in Breakfast and ending with a Happy Hour celebration of bicycling organizations throughout the region. Details >>
May 19-20: 48th Annual Broad Ripple Art Fair
This juried art fair, now in its 48th year, will feature fine art and crafts from more than 225 artists and artisans, artist demos, interactive art activities, nonstop live music, gourmet food and drink, and fun activities for the kids. Find that perfect, one-of-kind piece to enliven your living space, or just enjoy browsing and soaking in the atmosphere. Details >>
May 20: Pole Day Qualifications for the 2018 Indianapolis 500
Who will earn the coveted pole position for 102nd running of the 500? Come out to the track and see! Details >>
May 25: Indianapolis 500 Memorial Service
In the midst of the Indianapolis 500 celebrations happening during the Memorial Day weekend, the 500 Festival has set aside time to remember the Indiana men and women who died while serving our country in the armed forces. This solemn event takes place at the Indiana War Memorial and Museum. Details >>
May 25: Carb Day
Excitement is sure to run high as the 2018 Indianapolis 500 weekend kicks off with Carb Day at the Indianapolis Motor Speedway. Rock band Train headlines the Carb Day concert, with special guest Blues Traveler making an appearance. The concert is free with Carb Day admission. Details >>
May 26: Firestone Legends Day with Sam Hunt
The 500 celebration continues with Firestone Legends Day, featuring country music superstar Sam Hunt! Details >>
May 26: Indianapolis 500 Parade
More than 300,000 spectators will line the streets of downtown Indianapolis to witness one of the nation's premier parades. And it will be an amazing spectacle with floats, balloons, bands and the 33 starting drivers leading the way. Details >>
May 26: 500 Festival Snakepit Ball
The theme of race weekend's most exclusive party is the "Fast & Fabulous—the Future of Speed." Expect an interesting combination of speed and futuristic vision at the ball, as well as an eclectic mix of local and national celebrities and business and civic leaders. The event is black tie, and guests are encouraged to make a statement with their attire in keeping with the theme. Hip-hop violinist Miri Ben-Ari and technology dance group iLuminate headline the night. Details >>
May 27: Indianapolis 500
It's the day racing fans worldwide have been waiting for all year—the Greatest Spectacle in Racing! Details >>
This post was originally published April 19, 2017 and has been updated for 2018.
---

About the Author
Kristie Smith
Kristie Smith is the founder and CEO of the Indy Homes Real Estate Team. She is a REALTOR, and is one of the most recognized and accomplished Indiana real estate agents. Ranked among Central Indiana's top 10 real estate teams, the Indy Homes Team specializes in relocating families moving to the Indy area, as well as Helping People on the Move locally in Indy.
---