My new watch battery experience
Posted by Kristie Smith on Wednesday, October 24, 2012 at 12:39 AM
By Kristie Smith / October 24, 2012
Comment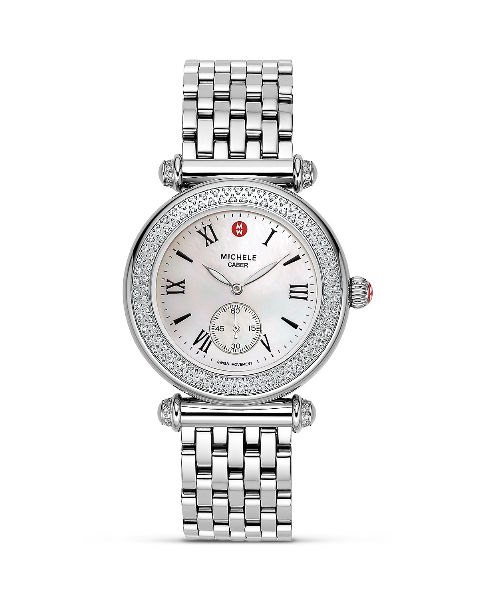 Two years ago my husband surprised me with a May Day gift. May Day, you wonder? Yes! May 1 is a day of celebration in many cultures to mark the beginning of summer. While the celebration of May Day has faded from American culture, many countries use the occasion to give flowers and gifts to loved ones. In an effort to really surprise me (on a day I would never suspect), my husband AJ had flowers and a wonderful gift waiting for me when I arrived home that May 1.
Much to my surprise, the gift was a Michele watch I had been eyeing for two years. Because it's from my husband and because it was given as a special surprise, I absolutely treasure it!
Well, last week the watch battery died, and my friend Cindy recommended Pierce Jewelers in Carmel to have the battery replaced. Pierce is known for its custom jewelry designs and watch restoration. So, I figured my watch was in good hands.
Pierce Jewelers is housed in a quaint studio, and when I walked in there was only one other customer in the place. Mark quickly greeted me, and whisked my watch away to a desk where he worked diligently under a magnifying light. I had a 15-minute wait, so I perused the sparkling pretties in the jewelry cases – all the pieces were so amazingly creative. I complimented Mark on a "dream ring" in the case.
As Mark handed my watch back, he asked, "Is this your first time here?" I answered yes, and cited Cindy's recommendation. He replied, "Well, the first visit is on the house; we would love to have your future business."
WOW! I cannot tell you what a huge impact this small gesture had on me. Then, to top it all off, five hours later he emailed me a photo of the dream ring along with some suggestions on how Pierce could customize it for me.
It takes a lot to impress me, and throughout that day I recounted that story of outstanding customer service to everyone I encountered. Do you think I'll go back? You bet I will! And I'm sure my word-of-mouth will send some of my friends to Pierce Jewelers too!
If you have a story about being WOW'd by customer service, I'd love to hear it. Leave a comment below.
---

About the Author
Kristie Smith
Kristie Smith is the founder and CEO of the Indy Homes Real Estate Team. She is a REALTOR, and is one of the most recognized and accomplished Indiana real estate agents. Ranked among Central Indiana's top 10 real estate teams, the Indy Homes Team specializes in relocating families moving to the Indy area, as well as Helping People on the Move locally in Indy.
---