One-tank getaway: Story, Indiana
Posted by Kristie Smith on Monday, August 29, 2016 at 1:19 PM
By Kristie Smith / August 29, 2016
Comment
As you cruise west along Indiana State Road 135, taking in the rolling hills of Brown County and the occasional farm house, you suddenly seemingly cross an invisible line that jumps you back in time to the mid-1800s. You've arrived at the outpost of Story, Indiana, a tiny town (pop. 6) preserved and re-realized as a bed and breakfast and foodie mecca.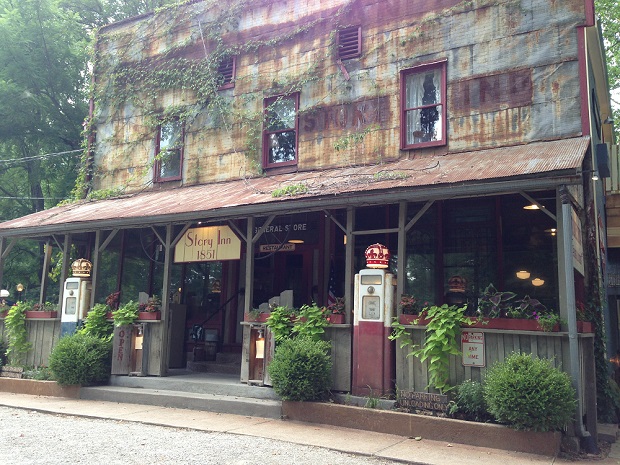 Story's old general store, which now serves as a restaurant and bar. Four inn rooms are found on the second floor.
Story's backstory
Story was founded in 1851 with a land grant from President Millard Fillmore to Dr. George Story. At its peak, Story was a thriving farming community and the largest settlement in the area with about 175 residents. However, in the midst of the Great Depression, many of Story's farmers left for better job prospects elsewhere, and the town never recovered. The final blow came in 1960 when the U.S. Army Corps of engineers flooded the area to form Lake Monroe, cutting off Story's easy access to Bloomington. All but abandoned, the town was saved in the late 1970s by preservationists who purchased the general store and turned it into a restaurant. They eventually purchased Story's other buildings to create a unique bed and breakfast.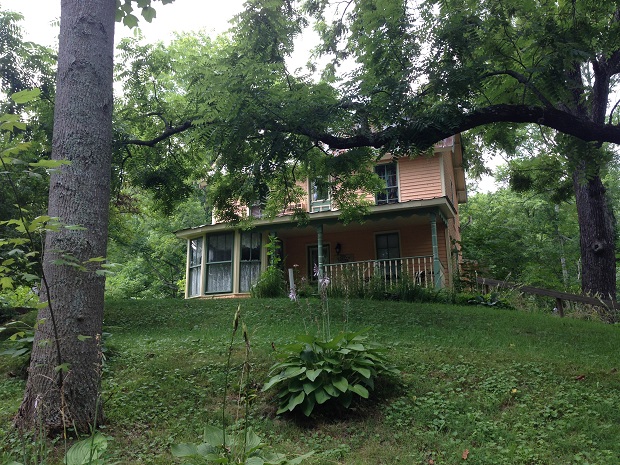 Doc Story's house in Story, Indiana
Amazing brunch
Today, the old general store, with its rusted metal façade and ivy coverings, is a well-regarded restaurant with carefully crafted menus that make use of fresh ingredients from Story's gardens and surrounding farms. On our recent trip, we stopped for Sunday brunch (my favorite meal!); it was well worth the drive from Indianapolis (about an hour and 15 minutes from downtown). My husband enjoyed a savory fried green tomato Benedict, while I indulged in the rosemary batter French toast topped with whipped ricotta and maple syrup. A plate of exquisite in-season fruit rounded out the meal. Paired with coffee spiked with Baileys cream and a mimosa (strong on the champagne), both dishes were flavorful and deeply satisfying.
After our meal, the staff was kind enough to let us peek into two of the Story Inn's rooms above the restaurant, including the "Blue Lady" Room, named for the ghost of Mrs. Story, who supposedly makes appearances to guests from time to time.
The grounds include several cottages that serve as accommodations for guests, and an old barn has been repurposed as a venue for weddings and other special events. On three sides, Story is surrounded by the Hoosier National Forest and Brown County State Park, which offer hiking and horseback riding, as well as cross-country skiing in the winter. Nashville, Indiana, known for its variety of shops and restaurants, is about 30 minutes to the north.
Next time, we'll come for the entire weekend.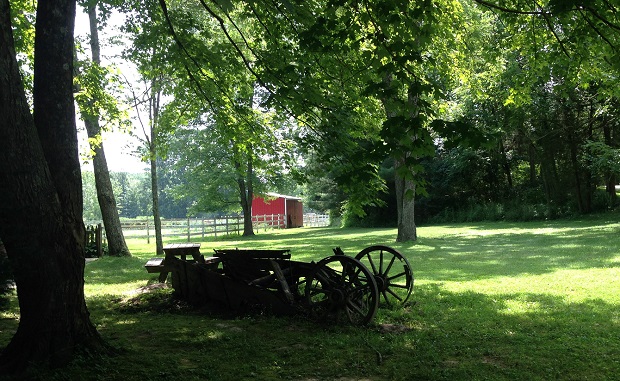 More of Story's beautiful grounds
When to go
Make a trip to Story any time you want to get away from the hustle and bustle of daily life. Story also hosts the Indiana Wine Fair in late April, as well as the Hoosier Hops and Harvest Festival in September. And of course, the area is a draw for leaf-peepers during the height of autumn color.
---

About the Author
Kristie Smith
Kristie Smith is the founder and CEO of the Indy Homes Real Estate Team. She is a REALTOR, and is one of the most recognized and accomplished Indiana real estate agents. Ranked among Central Indiana's top 10 real estate teams, the Indy Homes Team specializes in relocating families moving to the Indy area, as well as Helping People on the Move locally in Indy.
---