Is a Robot Lawn Mower Right for You and Your Lawn?
Posted by Kristie Smith on Monday, September 14, 2020 at 8:42 PM
By Kristie Smith / September 14, 2020
Comment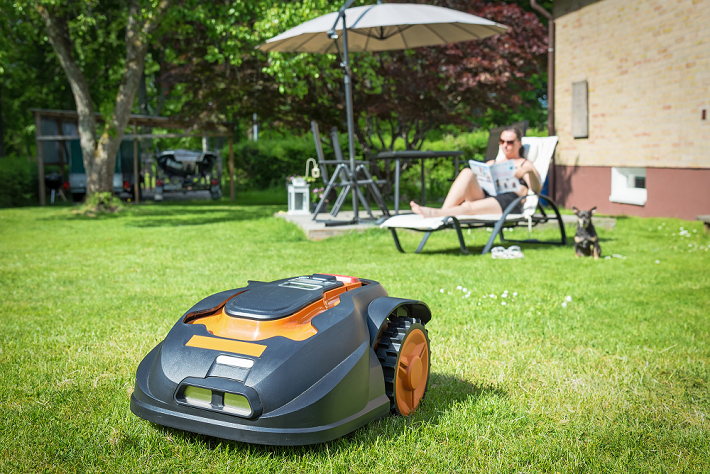 Some people enjoy yard work, finding the tidying satisfying and even calming. I am not one of those people! That's why I was intrigued to find that robot lawn mowers have grown exponentially in popularity over the past year as the technology improves and prices come down. Imagine kicking back on the deck or attending to other aspects of your busy life while what looks like a Roomba on steroids cuts your lawn to golf-course perfection.
Want to learn more about this new smart home innovation? Keep reading.
How they work
Robot lawn mowers are designed to operate frequently, cutting tiny bits off blades of grass every time. Proponents say this is healthier for your lawn, and as a result it'll always have that "just-cut" look. Most autonomous lawn mowers use a buried boundary wire to keep within a specified perimeter; the installed wire also enables the mower to cut around trees, bushes, pools, and other irregularities in the yard. Depending on the model of mower you buy, you may have to have a pro install the boundary; there are DIY options as well. Once the wire is placed, charge up the unit (yes, these robots are electric) and program it based on your criteria. Of course, the more expensive models have a ton of bells and whistles (such as voice integration with Alexa or Google Assistant and smart phone apps), but basic models allow you to schedule mowing frequency and specify the cutting height. Built-in sensors also keep the mower from mowing over items that the kids may have left on the lawn—the mower simply redirects. No human intervention needed!
Pros and cons of autonomous lawn mowers
There are a lot of pros:
Time saver: Not only will you save time mowing the grass, maintenance is easy—it just takes minutes every year. And there's little hassle—you won't have to empty bags of clippings or do any raking.
Pays for itself: If you're spending money on lawn maintenance, a smart mower can pay for itself over time.
Little noise: Most of these mowers are so quiet that you could even program them to run at night without disturbing the neighbors' sleep
Environmentally friendly: Autonomous mowers run on electricity rather than gas. No emissions to harm the environment!
Better for your lawn: Many models are built to mow several times a week, trimming short clippings every time. These clippings stay on the lawn and decompose to fertilize the lawn.
Space saver: These devices are relatively small and will take up much less space in your garage than a typical mower.
Safety: Mowers come equipped with lift and tilt sensors that retract blades when the mower is handled or up-ended. On-board sensors also assure that objects (like bikes, toys, sports equipment, even people and pets) are maneuvered around. As long as they aren't too dense, leaves can be mulched by the mower, and many mowers roll over dog poop without any problems. All models also come with anti-theft mechanisms so a passer-by can't snatch the mower out of your yard.
And the cons:
Price: In my mind there is only one: Smart lawn mowers can be pricey. Mowers currently on the market run anywhere from about $950 up to $5,000. However, as I mentioned above, these mowers can pay for themselves over time. If you are paying a lawn service, it's a no-brainer. Depending on what you buy, the mower can probably pay for itself over the course of a year or two. If you're mowing your lawn yourself, decide how much you value an hour of your time and do a cost-benefit analysis. You may decide that a smart mower makes sense for you.
Things to keep in mind when buying
It's important to do your homework to get a mower that works well with your yard. When evaluating mowers, you'll need to take into account the size of your yard (the bigger the yard, the longer the battery charge you'll need), the complexity of your yard, and the angle of any slopes (more expensive models can tackle steeper angles). You'll also want to consider how frequently batteries and blades need to be replaced, how noisy the mower is, the speed at which it operates, and the width of the cutting deck. There are many other possible features that you many find appealing. For example, many mowers have rain sensors that send them back to their charging base when moisture is in the air, and some can even run in the rain. Some mowers handle edges better than others. If you insist on tidy edges and don't want to have to trim them yourself, look for a mower that can tackle the job. And, as mentioned above, you might like the convenience of commanding your mower through Alexa.
Where to buy a robot lawn mower
Mowers can be found on Amazon, at big-box hardware stores, and through boutique specialty sellers. During my research, I found that Indy has an Autmow franchise. These specialists come to you to assess your lawn, demo mowers, and answer any questions.
There are still a few months of mowing season left this fall, and it's not too early to plan for next spring. Outsource your lawn mowing to a dependable robot, and take some time back for you!
If you own a robot lawn mower, I'd love to hear about your experience. Comment below!