The Symbolism Behind a Red Front Door
Posted by Kristie Smith on Monday, November 9, 2020 at 7:29 PM
By Kristie Smith / November 9, 2020
2 Comments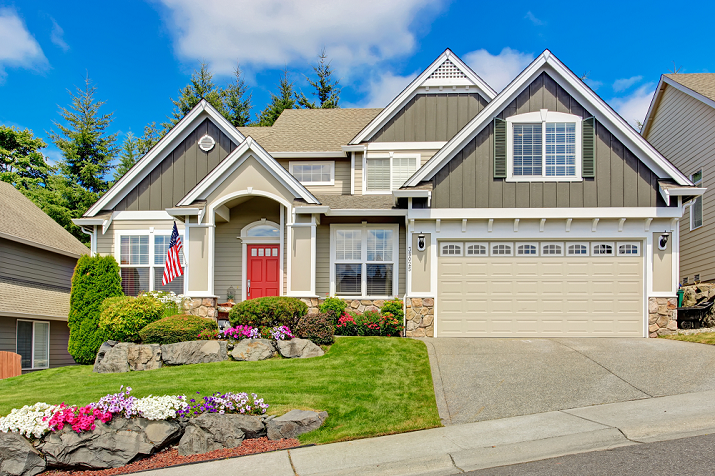 This summer AJ and I vacationed in the hostess city of the South, Savannah, GA. While there, we rode the Old Town Trolly through the charming historic city. One of our trolly guides pointed out all the residential red front doors. Interestingly, in Scotland and in some parts of the American South, homeowners have a tradition of painting their front doors red to mark that they have paid off the home's mortgage. In historic downtown Savannah, you can ONLY paint your front door red if you have no recorded mortgage. Each year the historical society pulls tax records to ensure no mortgage is filed on each red door parcel!
This vacation experience prompted me me to research other red door meanings as well.
First of all, why red? Hundreds of years ago, red was the most expensive paint color to produce, and its use indicated to others that the occupant could splurge a bit, thanks to owning the home free and clear.
A charming story about Albert Einstein recounts how the absent-minded genius had a habit of walking into his neighbors' homes because he couldn't distinguish their houses from his own. The solution? Einstein had the front door of his Princeton, NJ home painted red so he could easily pick it out from the rest on his street.
It doesn't take an Einstein to understand the appeal of a red front door. It's bright, it's cheery, and yes, it makes your home stand out!
Beyond adding curb appeal, red doors hold symbolic meaning in some cultures and at different points in history.
In Chinese culture, the color red symbolizes happiness, health, and luck, while the ancient Chinese tradition of feng shui teaches that the front door of the home allows energy, or "chi" to flow into the house. Blending these two ideas by painting a front door red results in an entrance that welcomes positive energy into the home, perpetuating a happy and prosperous life for the inhabitants.
Painting a front door red to communicate that the home's occupants welcomed weary strangers was an early American tradition. Travelers, tired from a long, difficult journey by horse and buggy, knew that they could stop at a home with a red door and be welcomed with hospitality and a good night's rest.
American lore also tells us that escaped slaves looking for safe passage to the North via the Underground Railroad knew to search out homes with red doors. There, they would find food, safety, and shelter along their journey toward freedom.
Finally, this theme of safety also is found in the Old Testament. According to the Passover story, Israelite families held as slaves in Egypt sacrificed lambs and smeared the blood on the door of their houses, as commanded by God. When the angel of death came that night, he knew to 'pass over' these houses, sparing the lives of the Israelites' first born sons.
If you're looking for a strong color that evokes positive vibes for your home, including hospitality, prosperity, safety, and wealth, you can't go wrong with a red front door!
What color is your home's front door? Did you have a specific reason for choosing that color? Share in the comments below!
---

About the Author
Kristie Smith
Kristie Smith is the founder and CEO of the Indy Homes Real Estate Team. She is a REALTOR, and is one of the most recognized and accomplished Indiana real estate agents. Ranked among Central Indiana's top 10 real estate teams, the Indy Homes Team specializes in relocating families moving to the Indy area, as well as Helping People on the Move locally in Indy.
---