Transform your outdated home to ensure a quick sale
Posted by Kristie Smith on Monday, August 15, 2016 at 3:27 PM
By Kristie Smith / August 15, 2016
Comment
The condition of your home is one of the most important factors in attracting buyers and getting your home sold fast. In today's market, busy buyers short on money, time and handyman skills want to purchase a move-in ready home. No outdated oak trim, brass lighting fixtures, floral wallpaper and builder-grade carpet for these buyers. They've been conditioned by HGTV to expect upgraded fixtures, hardwood floors, neutral walls, beautifully updated kitchens and spa-like bathrooms.
We can help you transform your home for today's market
We often advise our sellers to make necessary changes to appeal to most potential buyers and stand out from the competition. It's frequently the difference between selling quickly and moldering on the market for months. But many of our sellers don't have time and/or skills to take on these larger projects. That's where the Indy Homes Team's home transformation service comes in. Working with the seller, our team strategizes on what needs to be done and how it can be done in the most economical way possible to get the home sold.
Sometimes things like updated wall paint, light fixtures, cabinet hardware and flooring will give a home a whole new, fresh feel that buyers will notice and appreciate.
Sometimes more drastic measures are in order, like a total kitchen redo.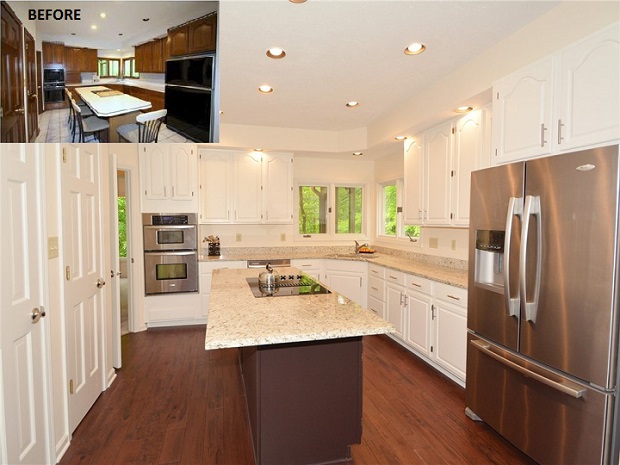 With our home transformation service, we are able to manage the entire process for the seller—from hiring from our list of trusted vendors, to ordering the necessary materials, to overseeing the contractors through the completion of the work. And we've negotiated for wholesale prices with our vendors, which are passed on to you.
Our goal: Make it easy for the seller
Our goal is to make the process as economical, easy and pain-free as possible for the seller. Our home transformation clients don't have to take time off work, worry about contractors or come home to messes!
Home transformation is a big job, but we believe it's a crucial service that very few Realtors in the Indianapolis area offer.
Again, it's all about generating as many potential buyers as possible and getting the house sold quickly.
What kinds of projects have you had to take on to get your house sold? We'd love to hear about them in the comments below!
Want to learn more about our home transformation services? Contact us at (317) 815-4450.
---

About the Author
Kristie Smith
Kristie Smith is the founder and CEO of the Indy Homes Real Estate Team. She is a REALTOR, and is one of the most recognized and accomplished Indiana real estate agents. Ranked among Central Indiana's top 10 real estate teams, the Indy Homes Team specializes in relocating families moving to the Indy area, as well as Helping People on the Move locally in Indy.
---