Using Paths to QUALITY to find an Indy childcare center
Posted by Kristie Smith on Friday, April 25, 2014 at 12:15 PM
By Kristie Smith / April 25, 2014
Comment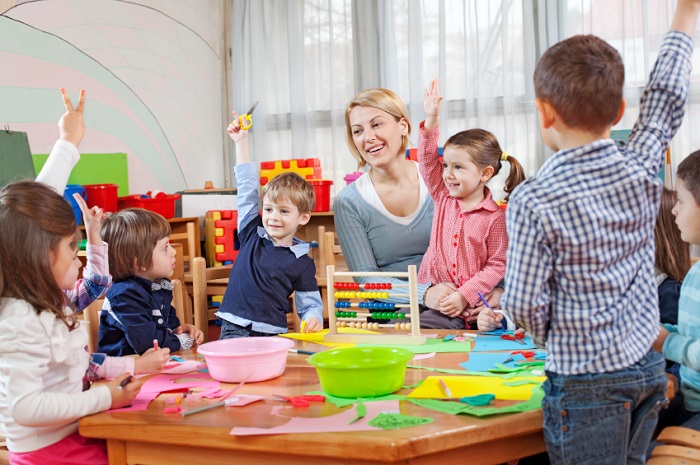 Photo: istockphoto.com
Finding childcare for children can be one of the most daunting tasks for any family and especially for families relocating to Indianapolis. Without an established referral network, relocation families often rely on what information they can find on their own to facilitate daycare selection. The Indy Homes Team acts as one-stop solution to help acclimate our relocating clients. And no one solution is right for every family.
According to the United Way of Central Indiana's website, "research shows that quality childcare can make a difference. Children who receive quality childcare are more successful in school and in life." The United Way works with childcare centers in the area to coach, train and educate them on how to achieve a higher level rating in Indiana's voluntary rating system. A free resource from Indiana Family and Social Administration, this rating system aims to help parents make informed decisions about their childcare and to assist childcare programs improve the quality of care offered.
Indiana's Paths to QUALITY system rates child care providers on a standards-based set of criteria. Here is how The United Way outlines the ratings:
Level 1: Health and safety needs of children are met.
Level 2: Environment supports children's learning.
Level 3: Planned curriculum guides development and school readiness.
Level 4: National accreditation, the highest indicator of quality, is achieved.
The Indy Homes Team relocates 95-120 families and individuals every year. We're able to offer some guidance on finding the right neighborhood, home, schools and even childcare. We've compiled some tips to help families
How to start the search for a daycare center in Indianapolis
Determine selection criteria. It's important to identify areas of importance to compare childcare centers. Some suggested criteria are: faith-based vs. education-focused, or both; close to home vs. close to work; cost; teacher to child ratio; and United Way's Path to QUALITY Rating.
Research Indianapolis child care providers. You can ask your employer and Indianapolis real estate agent for suggested families to consult for referrals. Also, reference the Paths to QUALITY free childcare search.
Narrow down list to top five centers. Just like searching for a new home in Indianapolis, it is helpful to eliminate choices. Keep drilling down the list until the right one presents itself.
Make phone calls to each center. You can tell a lot about a childcare center simply by how the phone is answered. Was the person who answered friendly and helpful?
Visit top three child care choices. You may want to visit the centers without your child first, so that you can get your pertinent questions answered efficiently. Then you may want to introduce your child or children to your final candidates and observe the reactions and interactions.
Make a selection based on what meets your family's needs. Ultimately, you'll be able to trust your gut at this stage of the search.
What other tips do you have for finding childcare in Indianapolis?
---

About the Author
Kristie Smith
Kristie Smith is the founder and CEO of the Indy Homes Real Estate Team. She is a REALTOR, and is one of the most recognized and accomplished Indiana real estate agents. Ranked among Central Indiana's top 10 real estate teams, the Indy Homes Team specializes in relocating families moving to the Indy area, as well as Helping People on the Move locally in Indy.
---