Discover White River State Park in Downtown Indianapolis
Posted by Kristie Smith on Wednesday, March 21, 2012 at 5:49 PM
By Kristie Smith / March 21, 2012
Comment
With the amazing, record-breaking weather we've had lately (nearly 80 degrees in March—unbelievable), AJ and I recently felt compelled to venture into Downtown Indianapolis in search of some outdoor fun. And we found it at White River State Park.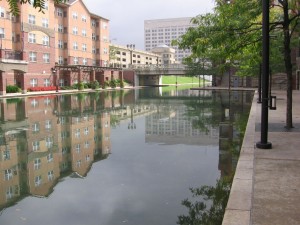 Wanting a change of pace from our usual frantic routine, we strolled leisurely along the historic Indianapolis Central Canal, taking in the budding greenness and public art all around us as rollerbladers and cyclists whizzed by. It seems that most of Indy's population had the same idea that we did! As a Realtor, I of course couldn't help noting all of the great condo buildings lining the canal as we walked. What a fantastic place to call home in Indianapolis! AJ and I eventually stopped our wandering, bought some lemonade from a stand and spread a blanket on the grass to soak in the early spring sun and people-watch. Really, could a Sunday afternoon in Indianapolis be more perfect?
While we kept it simple, there is so much to do and see in White River State Park, Indiana's only urban state park. In addition to welcoming green spaces, the park, situated on 250 acres, is home to some of Indianapolis' most popular and treasured cultural attractions including the Indianapolis Zoo, the Eiteljorg Museum, the Indiana State Museum, the NCAA Hall of Champions, Victory Field (home of the Indianapolis Indians), the Lawn at White River State Park (a fun outdoor concert venue) and the state's largest IMAX theater.
On our next trip to White River, I want to tour the park on rented Segways and maybe even take a pedal-boat ride. Dessert at Creation Café on the north end of the canal would be the icing on the cake (yum).
Here are some don't-miss events this season:
March 27-31

–

Pinewood Derby
April 14

–

Komen Race for the Cure
April 28

–

Earth Day Indiana Festival
May 4 – Rise Against concert on The Lawn
June 8

–

Zoobilation
June 23-24

–

20th Annual Eiteljorg Indian Market & Festival
July 29 – Florence + The Machine concert on The Lawn
August 6-10 – Elephant Awareness Week at the Indianapolis Zoo
September 16 – Hispanic Heritage Fiesta
Check the White River State Park events calendar for much more, including ongoing exhibits and awareness runs.
---

About the Author
Kristie Smith
Kristie Smith is the founder and CEO of the Indy Homes Real Estate Team. She is a REALTOR, and is one of the most recognized and accomplished Indiana real estate agents. Ranked among Central Indiana's top 10 real estate teams, the Indy Homes Team specializes in relocating families moving to the Indy area, as well as Helping People on the Move locally in Indy.
---