My adventures with WTHR Flat Chuck!
Posted by Kristie Smith on Tuesday, July 23, 2013 at 6:45 PM
By Kristie Smith / July 23, 2013
1 Comment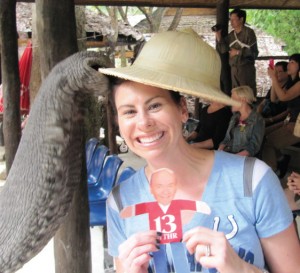 For those of you who live in Indianapolis, you know of the spoof on The Flat Stanley Project from WTHR's morning weatherman, Chuck Lofton. Like with Flat Stanley, participants take a "flat" cut-out version of the weatherman on their varied adventures and document with a unique photograph. In the WTHR version, the COVETED PRIZE is getting a photo chosen by the TV station as Chuck's "adventure of the day." The prize for all this effort: a Flat Chuck t-shirt, 15 seconds of fame, and bragging rights to all your friends.
Being a travel junkie, this challenge was right up my alley! It was easy enough to download Chuck from WTHR.com, cut him out and pack him in my suitcase.
Chuck went biking though the Canadian Rockies in August with AJ and me. While there, we snagged photos with Chuck on a glacier, with an elk, at the top of a mountain and white water rafting. Convinced WTHR would jump at one of these photos, I watched the news with anticipation each morning at 6:30 a.m. – for two months! Nothing. I now have scores of vacation photos littered with the weatherman, and for what….not even the t-shirt or bragging rights.
Determined not to be defeated, Chuck made the journey to Thailand in November. The two weeks in Asia were a treat, and Chuck was in tow during the awesome adventure. This time, I sent a couple of special pictures to WTHR thinking "these have to score a win." Sure, enough, the very same week, WTHR posted two photos from Thailand! One with an elephant, and the other where we launched Chuck into outer space tied to a hot air lantern – during a national holiday tradition called Loi Kratong.
The adventure was fun, as many other tourists were enrolled in the "game." Thanks WTHR for choosing my photo.
If you have a Flat Stanley (or Flat Chuck) story, I'd love to hear about it. And, of course you can stop by my office anytime to see my Flat Chuck t-shirt.
---

About the Author
Kristie Smith
Kristie Smith is the founder and CEO of the Indy Homes Real Estate Team. She is a REALTOR, and is one of the most recognized and accomplished Indiana real estate agents. Ranked among Central Indiana's top 10 real estate teams, the Indy Homes Team specializes in relocating families moving to the Indy area, as well as Helping People on the Move locally in Indy.
---